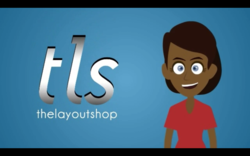 "Let the Storyteller in you shine" with The Layout Shop's Storyteller theme
Los Angeles, CA (PRWEB) August 13, 2012
Online Tumblr theme store The Layout Shop announced that they just released the second episode of their series of animated web videos on YouTube and other channels. The animated series is made to introduce their collection of Tumblr themes. The second episode of this video series features three more of their themes: Storyteller, Uno, and Coffre.
The animated introductory video to The Layout Shop's Tumblr themes was launched along with the announcement and is now available for viewing on YouTube. The video features a still unnamed young female that introduces the website and its collection of themes.
The animated video features three of their most popular themes for Tumblr. The Layout Shop boasts themes with sleek design, versatility, high customizability, and ease of use.
The first of these themes to be features is the Storyteller theme. The theme's page says, "Let the Storyteller in you shine," also adding that Storyteller is the perfect theme for people who like to write a short story along with their photographs. The theme has a minimalist design that gives viewers a "pleasant aesthetic" to see when browsing your posts.
The second theme featured is the Uno theme, which is a side-scrolling theme that is designed specifically for blogs that focus on high-resolution photos. "Give your users a different viewing experience and turn your photo collection into a walk in a gallery," says the Uno theme page. The theme is available for free.
The last theme featured on the video is another one of the site's free themes, Coffre. Coffre is a minimalist theme that displays high-res photos in a clean layout. "Simple and effective."
About The Layout Shop
The Layout Shop is an online specialty store that sells premium themes and offers some of the free best themes outside of the Tumblr Theme Garden. The site also hosts a blog that features the latest in social media, social networking, blogging, microblogging, and web culture. The Layout Shop also points the spotlight on a special Tumblog of the Month that showcases the versatility of its themes.