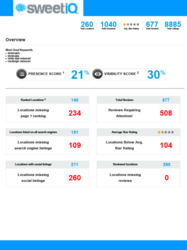 These audit reports help us demonstrate the deep fragmentation of the local marketing landscape and the importance of having a central system to monitor and manage these divergent channels
Montreal, Quebec (PRWEB) August 13, 2012
Sweet IQ, the premier location-based marketing platform, devoted to the progressive development of the local marketing landscape, is proud to be attending this year's SES event in San Francisco. The company will be demonstrating its marketing platform at Booth #9 in the Texpo Pavillion, empowering brand owners and marketing professionals to increase their venue presence, manage brand visibility, and drive online customer engagement into offline in-store sales.
Attendees will get a unique opportunity to demo the platform and its powerful recommendation engine, and will receive a Free Presence and Visibility Report of their physical brick and mortar stores, providing an audit of their venues' performance across search engines, social networks, and hyper-local niche directories. "These audit reports help us demonstrate the deep fragmentation of the local marketing landscape and the importance of having a central system to monitor and manage these divergent channels" said Michael Mire, CEO and co-founder of SweetIQ.
"Our recommendation engine, coupled with our managed services and our deep knowledge of the local marketing space is what sets us apart as an enterprise-grade solution in this highly divided ecosystem" continued Ravdeep Sawhney, Chief Product Officer and co-founder of SweetIQ. With the company providing its services to national and multi-national franchises, brands, and value-added resellers across North America and Europe, in addition to having recently signed a strategic partnership with Cossette Media, SweetIQ is quickly powering its way to becoming the one-stop-shop for location-based marketing services.
About Sweet IQ
Sweet IQ, formerly Get Me Listed, is a fully integrated location-based marketing platform. It collects and analyzes data to provide actionable recommendations to increase brand presence, manage visibility, and drive customer engagement into in-store sales. Sweet IQ was developed to respond to the needs of multi-venue marketers who deal with diverse and fragmented local marketing streams, such as local listings, mobile apps, and social media, to create and manage centralized and simplified marketing campaigns.
For more information, please visit our website at http://www.sweetiq.com.
Press Contact
Michael Mire
info(at)sweetiq(dot)com
1-888-573-5228