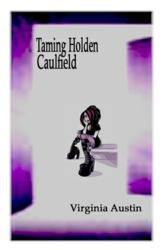 Chicago, IL (PRWEB) August 27, 2012
Taking aim at the original Salinger odyssey, the parody "Taming Holden Caulfield" offers a new generation of readers a fresh look at one of their parent's favorite characters in a hilarious romp from Agerstown, PA to NYC.
"I suppose one would think writing a parody of a book that sold 65 million copies would be a little daunting. It wasn't. The book rolled off quickly. What is daunting however is releasing a parody of a book that sold 65 million copies. That'll bring you back to the bottle just when you swore you were done," commented Austin.
Like "The Catcher in the Rye," Austin's story begins at the Pencey Prep football field. Though, that's about as far as it stays true to Salinger's tale because here Holden meets Selma Thurmer, the daughter of the headmaster who just had him expelled. Thurmer, a Goth girl in the new story, then starts prescribing the first of many antidepressants. And while he may be happier than the first time around, he is now subject to all those nasty little side effects one would hear being scrolled out at the end of a pharmaceutical commercial.
"No, the book is definitely not a condemnation of antidepressants. They serve their purpose and I understand that. Although, I don't think you start medicating your youth just because they aren't bleating along with the masses. Your teenage years can be quite difficult to navigate. But working through them without flatlining your emotions I believe can actually help you in the long run. And that's the whole point. I don't think Salinger would have had much of a story if Holden was part of the Prozac nation."
Selma's wit and sarcasm are what really drive Austin's update of "The Catcher in the Rye." With a seemingly endless supply of alcohol, one-liners, and an arsenal that would make even a warrior princess jealous, she gives "Taming Holden Caulfield" that edge that many readers may not find in a reading of the 1951 original.
"Yeah, I love Selma. She's funny as hell, completely self-assured, and definitely lives according to her own rules. I actually missed her when the story ended. I would love to keep her character alive by dropping her into another story like "Romeo and Juliet." However, knowing Selma, she would only end up poisoning Romeo herself and probably take off with Rosaline. And then I would still have Act Two to write."
The book also toys with time, characters and movies. Holden and his new companion encounter a host of new players including 50 Cent, Britney Spears, Sylvia Plath and Nikola Tesla. They also find themselves in the middle of a few movie scenes: "Rear Window," "True Romance" and "Scarface" to name a few.
"With regard to the movies that are interjected here, the first Holden Caulfield stated that he hated the movies so I figured a "tamer" Holden would actually enjoy being in the middle of a few. The incidental characters I think just add an extra dimension here. And, even after having read it about a thousand times, I still can't get enough of 50 Cent shooting those ducks in Central Park."
About the Author
This is Austin's sixth book, which is being released with "The Assassin and the Disciple." The author resides in Chicago and when not writing is busy turning out calculations and designs for the nuclear industry.
Contact:
Billy Duffy. Melting Salvation Press, LLC
773-301-5249
virgaustin(at)ameritech(dot)net
http://www.virginiaaustin.com