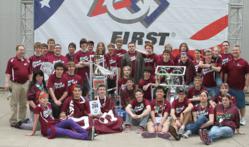 Students are learning "college and career readiness" skills at a young age - and that positions them for success in college and future careers.
Grandville, MI (PRWEB) August 14, 2012
On Thursday, September 6th, Grandville Public Schools will celebrate the opening of a new Robotics & Engineering Center. This Center will be the new home of the Grandville High School RoboDawgs, the school's internationally recognized competitive robotics program. This newly repurposed facility will support the continued growth of the RoboDawgs and create a platform for extending educational opportunities for Grandville students, particularly in the area of hands-on, project-based learning.
Grandville's Orion school building, which had previously housed an alternative high school, is being refitted by the school district and the Grandville Academic Team Boosters to include a state-of-the-art CNC machine shop. It will also house a controls lab, where students will learn to program various controllers to operate autonomous robots utilizing a wide range of sensors and vision systems. The building's 10 classrooms and competition areas will also provide dedicated space for designing, building, programming, and testing robots of all sizes. There will also be dedicated study hall and group project space.
Grandville Public Schools Superintendent Ron Caniff has been a strong supporter of competitive robotics and the impact such programs have had on Grandville Schools. "Over the past several years, the Grandville RoboDawgs program has grown to become a widely recognized point of pride for Grandville Public Schools," said Mr. Caniff. He continued - "The coaching staff and students have demonstrated an unwavering commitment to success in the classroom - and on competition fields across North America. We are very excited about the academic impact this program has had and the opening of the Robotics & Engineering Center represents a great opportunity for us to support the educational goals of our RoboDawgs organization."
The Grandville RoboDawgs program has expanded dramatically over the past five years, growing from a single FIRST Robotics team that competed during the winter months to a year around program that sponsors or mentors more than 30 robotics teams across multiple competitions and leagues. RoboDawgs develop real-world engineering and technology skills, have excellent grades, and learn to work as a team in the spirit of gracious professionalism. The RoboDawgs' robots are strong competitors, and the team was represented at both the 2012 VEX World Championship and the 2012 FIRST Championship. Each year, the RoboDawgs sponsor and mentor more than 30 other robotics teams at the elementary, middle school, and high school levels. RoboDawg graduates can be found in science, engineering, and math programs at leading U.S. universities and more than 95% of RoboDawg graduates since 2009 have received college scholarships.
The RoboDawgs are led by head coaches Mike Evele and Doug Hepfer. Mike, a physics teacher at Grandville High School, was one of the RoboDawgs founders in 1998. He has been instrumental in the recent growth of the team and has been an architect of the program's academic focus. All RoboDawgs must meet minimum grade point standards, and the program supports this challenge through a dedicated study hall and an active tutoring program.

* * * * * * * * * * * * * * * * * * *
Grandville Public Schools has been a leader in educational robotics for more than 10 years. Beginning with one high school robotics team in 1998, the district's program has now grown to include more than 30 teams. More than 500 students, from fourth through twelfth grades, participate on Grandville robotics teams, designing, building, and programming robotics for competitions around the world. Grandville has one of largest Lego League programs in the country, with the District fielding 18 teams this year. These students go on to compete in the District's VEX Robotics program at the middle school level, as well as the FIRST Robotics competition and the Great American River Race at the high school level. The Grandville Academic Team Boosters provide financial, technical, and coaching support for the Grandville robotics teams and other academic teams in West Michigan.
For more information, contact:
Doug Hepfer, Grandville Academic Team Boosters
(616)540-3239
Michael Evele, Physics Department, Grandville High School
(616)254-6483