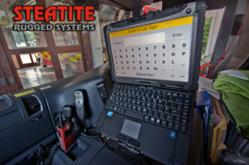 Redditch, Hertfordshire (PRWEB UK) 15 August 2012
Hertfordshire FRS use Astrium's Vehicle Mounted Data System (VMDS) which delivers current and relevant critical risk information to the fire crews; the currency of this information and its relation to points of interest within the operational area being maintained via Astrium's Central Management System (CMS) application. VMDS and CMS are components of the SAFEcommand suite of applications. Astrium is an EADS Company.
Whilst their older ruggedized hardware had for the most part served their purpose, the fire crews reported a number of issues which they hoped to address in an IT refresh project. Aside from the screen being too small to clearly display information to the user, they also encountered responsiveness issues with the digitizer style displays. Even at maximum resolution the fire crews found text and icons too small and difficult to read. This presented them with user readability issues that had a real impact on operational effectiveness.
Kim Anderson, Group Commander at Hertfordshire Fire & Rescue, commented: "Although the original laptops were designed to be vehicle de-mountable, the units with smaller screens were not ideal and fire crews found them difficult to use, particularly when mobile to incidents."
In such a mission critical environment Hertfordshire Fire & Rescue were looking for a vehicle mounted (de-mountable) laptop solution with GPS and HSDPA to fulfil their data communications requirements and a DC powered docking station together with the necessary performance requirements to meet their operational needs.
After careful consideration and trials, Hertfordshire Fire & Rescue selected the Getac V200 supplied by Steatite Rugged Systems, as it provided a fully rugged convertible notebook with an IP65 rating giving continued operation and an extremely high level of protection against ingress from dust and water. The V200 also meets MIL-STD-810G – the US Military standard for drop, shock and vibration testing.
The V200 is considered a convertible notebook in that it offers the benefit of operating as both a conventional notebook PC and as a fully rugged touch screen tablet. Paired with Intel® Core™ i7 vPro™ processor, the V200 offers up to 6 hours of battery life from a single charge. This provides continued performance both in the vehicle and when deployed as a mobile data system.
It features a sturdy magnesium-aluminium alloy enclosure, a shock-protected HDD, sealed I/O ports, and is fully impact resistant. The V200 benefits from a full-sized keyboard of 88 keys and a resistive multi-touch screen that would allow fire crews to operate with gloves on.
It also features an integrated built-in 2 megapixel camera, a GPS receiver and integrated 3G module for mobile connectivity. The V200 offers GPS and 3G pass-through allowing the unit to be connected to an external antenna for improved reception and performance. In addition, it offers multiple connectivity options including Bluetooth, WLAN and WWAN, as well as an integrated TPM module for enhanced information protection.
Commenting on the hardware, Kim Anderson said; "We have been delighted with the Getac V200 and the support offered by Steatite…our operational crews are impressed with the flexibility and usability of the hardware and have reported that the larger, touch screen is excellent making operation of the unit much easier, particular whilst travelling. It also improves the functionality of the mapping screen, allowing for easier reading and searching, a great improvement over the previous model."
Anderson continued; "We have just completed the roll out of MDT's to our fleet and are starting to reap the benefits of the full data mobilising facility. We have already been approached by two other Fire & Resce Services who are also looking at MDT options and we have had no hesitation in recommending Steatite and the Getac V200 to both."
For more Getac V200 product information, please visit our website at http://www.rugged-systems.com or contact our sales team at sales(at)rugged-systems(dot)com for more details.