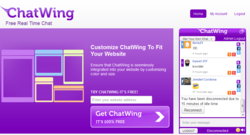 Denver, CO (PRWEB) August 15, 2012
The niche of product review is now growing in epic proportions, based on the websites being created for thousands of consumers across the Internet. To tap this opportunity, the Chatwing dev team has launched a chat box that can help people gain a new website chat experience. This chat application is now ready to be used by product review bloggers in the Tumblr community. The Chatwing app ensures versatile communication and easy installation mechanism. Users can also take advantage of Chatwing's social media integration feature and adorable emoticons and avatars.
In order for a product review blog to become successful, its owner must be able to understand the wavering changes of consumer preferences. The Chatwing free shout box can help a product review blogger monitor these changes in preferences. By creating a bridge of blog interaction, the blogger will be able to understand his visitors at a better rate. Visitors of the Chatwing chatroom can also use their Facebook and Twitter accounts as login options. For others who want to remain anonymous, the Guest option is always ready. Now, a visitor can use Chatwing's wide array of avatars and emoticons. A Tumblr product reviewer can use the Chatwing chatbox to gather comments and suggestions in real-time. This is more useful rather than waiting for blog comments that may take days to arrive.
The Chatwing chat app has undergone numerous upgrades and platform tweaks. This is to ensure that the free chat box will remain as stable and reliable as possible. The recent version of the Chatwing chatbox can also accommodate up to 1000 users, increasing the potential of lively discussions in a regular basis. Chatwing developers have also improved the installation mechanism of the shoutbox, allowing bloggers to save more time. Tumblr product review bloggers can also use the Chatwing application to gather spikes of visibility within days and weeks.
This August, the Chatwing team is planning to create new backend upgrades to ensure that the free chat widget will run faster than ever and will not experience technical glitches and errors. The dev team is also maintaining Chatwing's Facebook page, keeping users well-informed about certain developments every now and then. Aside from Tumblr, the Chatwing team will continue reaching out to other bloggers from known blogging sites.
About Chatwing.com
Chatwing.com specializes in the new field of website chat. Over years, the Chatwing team has introduced live chat widget for hundreds and thousands of blogs. The Chatwing application bridges people from many parts of the world, creating global synergy through the Internet. The shout box can be installed in just seconds, and it can be used for varying purposes such as leisure and Internet marketing. It also allows a user to customize the size, color, and name of the widget. Chatwing is 100% free for everyone.