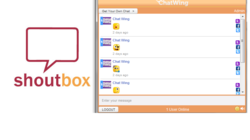 San Antonio, TX (PRWEB) August 15, 2012
Bloggers from different communities will now gain a steady online presence booster with the help of Chatwing's latest chat box. This chat application is now revamped with a 1000-user capacity to promote web communication on a regular basis. Social media integration is also one of the main features of the Chatwing chat tool, allowing users to expand their networks with relative ease. Additionally, users can also engage in private group chats because of Chatwing's direct link URL option.
Chatwing's free shout box has been released in well-known blogging communities such as Wordpress and Typepad. The chat tool has received mostly positive reviews and some bloggers have remarked that Chatwing can be a professional blogging solution. Bloggers from various niches have benefited a lot from Chatwing's well-rounded application; travel bloggers have installed the Chatwing tool and were able to interact with their visitors in a regular basis. This has helped many people gather information about vacation spots that they are planning to visit. Company bloggers were also able to digress about the products and services their companies can offer, and they were also able to answer the inquiries of their visitors. Game bloggers, on the other hand, have relied on the Chatwing chatbox when it comes to spreading tips, walkthroughs, and secrets meant for thousands of gamers.
The 1000-user capacity upgrade may be simple, but it has helped Chatwing gain more users on a daily basis. The Chatwing dev team has estimated that the free chat box is now being used by hundreds of bloggers from different blogging sites and niches imaginable. Forum makers have also used the widget in order to make their forums more active than ever. Chatwing ensures website activity by enticing people to discuss a wide range of topics. The most notable topics are blogging, technology, Hollywood, crafts, web development, photography, hobbies, humor, fashion, finance, and current events.
Aside from the 1000-user capacity, the Chatwing team is planning to introduce more platform upgrades and developments. This will ensure the stability and connection speed of the Chatwing free chat widget in the long run. Rapid expansion is also part of Chatwing's strategic plan; aside from bloggers, the dev team is also looking forward to help gamers gain worldwide information about the games they like.
About Chatwing.com
Chatwing.com specializes in the new field of website chat. Over years, the Chatwing team has introduced live chat widget for hundreds and thousands of blogs. The Chatwing application bridges people from many parts of the world, creating global synergy through the Internet. The shout box can be installed in just seconds, and it can be used for varying purposes such as leisure and Internet marketing. It also allows a user to customize the size, color, and name of the widget. Chatwing is 100% free for everyone.