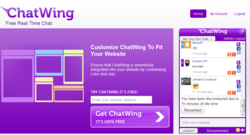 Fort Worth, TX (PRWEB) August 15, 2012
The Chatwing Development Team has done its homework of strategic web research; in line with this, Chatwing has launched a global chat box that can empower Wall.fm users and give them an edge in online competition. Based on the research of the Chatwing team, Wall.fm is now gaining widespread popularity as a social networking site creator. The Chatwing tool can enhance the way a Wall.fm user connect to the world. By providing a simple yet powerful avenue of communication, a Wall.fm user will be able to reach thousands of people within a short span of time.
Chatwing's free chat box is a simple tool that has been tweaked to deliver optimum performance. Bloggers from different parts of the world are now using the Chatwing chat tool to generate streams of visibility. Aside from bloggers, people from other online sectors are also using the Chatwing tool for better communication. The recent version of the Chatwing app can accommodate up to 1000 users in real-time, sparking numerous discussions in just a single day. The Chatwing team has also noticed that people are also using the chatbox to share links to their blogs or websites. Wall.fm users can use this advantage to promote their social networking sites without a fuss.
Based on the research of the Chatwing team, people from Wall.fm are finding creative ways to express what they feel about a certain niche. The sports niche is common in Wall.fm, resulting into the creation of thousands of social networking sites. Apart from that, Wall.fm users tend to create sites about human interests, lifestyle, health, and many more. Chatwing's free shout box can help these users by providing a new and speedy form of communication. Early users of the Chatwing widget have observed that their websites experienced a 40-60% jump in visibility in just few days. The percentage varies, depending on the appearance of the site, content, and other tools embedded.
Chatwing will continue its rapid expansion in other sites by introducing the free chat widget to numerous people all over the world. This simply means that the Chatwing team will commit to various online and offline marketing strategies. To complement such strategy, Chatwing's developers will work round the clock in tweaking the platform. Chatwing assures its users that more features will come in the following weeks and months.
About Chatwing.com
Chatwing.com specializes in the new field of website chat. Over years, the Chatwing team has introduced live chat widget for hundreds and thousands of blogs. The Chatwing application bridges people from many parts of the world, creating global synergy through the Internet. The shout box can be installed in just seconds, and it can be used for varying purposes such as leisure and Internet marketing. It also allows a user to customize the size, color, and name of the widget. Chatwing is 100% free for everyone.