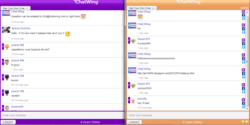 San Jose, CA (PRWEB) August 16, 2012
Zynga Poker is still gaining ground in Facebook today—all because of the rewards, new mechanics, and high-octane experience that it can offer to thousands of players. This fact is based on the comprehensive research of the Chatwing Development Team. Chatwing, adept in making chat applications, is now ready to help Zynga Poker fans communicate by launching an interactive chat widget that can be installed to many blogs and websites. Zynga Poker fans can use the Chatwing chat app to exchange tips and invite players for a series of online games.
Tip hunters are common in the Zynga Poker community nowadays. These gamers, based on their posts in forums and message boards, are looking for ways on how to bluff other players and increase their chances of using pocket aces. Some fans have already started using Chatwing's free chat box; these fans have commented that the Chatwing tool is easy to use, and they also made lots of friends because of social media integration. Moreover, the Chatwing tool can also accommodate 1000 users in real-time. In this way, many players can engage in hundreds of possible Poker-related discussions. The Chatwing chatbox has also been used by Poker bloggers from different communities.
Chips are also one of the main topics noted by the Chatwing team. In a Chatwing chatroom, Zynga Poker players tend to talk about increasing their stacks of chips. Visitors have also sent Facebook and Twitter invitations to other people, hoping to get more chips in the game. To deal with such influx, the Chatwing team has created some backend upgrades. In just days, Chatwing's free shout box operated with renewed speed and stability.
Chatwing Development Team does not forget that gamers play important roles in many aspects of the Internet. These gamers flock websites, giving natural flows of visibility every now and then. By introducing a globally-inclined and free chatbox, the Chatwing team can help Zynga Poker players gain a respective edge in most of their games.
About Chatwing.com
Chatwing.com specializes in the new field of website chat. Over years, the Chatwing team has introduced live chat box for hundreds and thousands of blogs. The Chatwing application bridges people from many parts of the world, creating global synergy through the Internet. The shout box can be installed in just seconds, and it can be used for varying purposes such as leisure and Internet marketing. It also allows a user to customize the size, color, and name of the widget. Chatwing is 100% free for everyone.