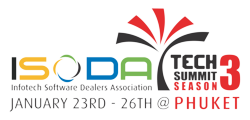 The Theme for this year is "Together we can" says Mr. Gunasegharan, Chairman, Organizing Committee.
Chennai , Tamil Nadu (PRWEB) August 15, 2012
Over 150 pairs of Eyes and Ears eager to sell your software products
Technology majors, who are looking for a platform to pitch your latest products and services, look no further –ISODA Tech Summit is back with Season 3, this time much bigger and with many more exciting events and opportunities.
Infotech Software Dealers Association (ISODA) is an umbrella organisation that represents companies engaged in the business of reselling packaged and licensed Software Products in India. The association not only brings together various stakeholders in the software reselling and distribution Industry in India, but also acts as the common voice of the dealers, distributors and principals in representations with bigger Software Distributors, Manufacturers and Government Agencies.
"Tech Summit is an amazing event where you can find the who's who of the software distribution in India, all under one roof. It provides a unique opportunity to foster Principal – Channel - Partner relationships and promote business growth, all this in a very relaxed and informal environment" says Mr. Biren shah, Chairman, ISODA.
Tech Summit is the flagship-meeting platform of ISODA, which will bring together Software manufacturers and Distributors to work together in harnessing each other's strength for mutual growth. Tech Summit acts as a conference cum exhibition event where top Software Manufacturers get to show-case their products and new developments to the top CEOs of Solution companies. It is billed as the ultimate platform for networking and new business tie-ups in the industry says Mr. Sudarsan Ranganathan Spokesperson and Vice-President of ISODA.
The Theme for this year is "Together we can" says Mr. Gunasegharan, Chairman, Organizing Committee. He adds, "The theme lucidly reflects the importance of strong manufacturers - dealer partnerships for sustainable business growth, especially in the current environment of slow growth and tougher market conditions." ISODA Tech Summit Season 3 will provide a unique opportunity for some of the best Software dealers and Software manufacturers to interact and ideate in an atmosphere that is lively, informal and conducive to sharing.
Tech Summits in the past and this year have been organized in exotic and serene settings, which can be conducive to foster great relationships and partnerships without the look and feel of a business setting. This year the event will in the amazing island of Phuket, Thailand from January 23rd to January 26th of 2013 tentatively
Mr. Alok Gupta, President, ISODA quips "Tech Summit has, over the years evolved into an eagerly awaited event by the entire community of software vendors and manufacturers alike. Many a new business relationship has been conceived during the summits and resulted in great business. Exhibitors and sponsors can look forward to spending quality time in interacting and sharing ideas with their potential channel partners which can set the ball rolling for the growth/expansion strategies for the coming year.
"The last edition of the event held in Singapore saw a whooping number of participants which included over 100 CEOs of companies in the software Industry and participation from lot of companies including RSA, Fortinet, Quest, SonicWall, Symantec, Microsoft and Bluecoat. This year, the number of registrations has already touched over 75 and it is expected to cross the 150 participants mark," says a highly optimistic and positive Mr. Harinder Salwan, Secretary General, ISODA.
Smaller software companies can avail of the opportunity to interact with the leaders in the industry and participate when critical decisions are made at the summit. Tech Summit Season 3 will see a plethora of events and activities, which are sure to bring about far reaching changes and growth prospective for the software reselling business in India. If you are a Software Manufacturer or Reseller, this is one event you cannot afford to miss. Growth and Opportunity beckons…For more details log on to http://techsummit.info
ISODA Tech Summit 2013 – Thursday, 23 January 2013 to Sunday, 26 January 2013
Venue: Phuket, Thailand
For further details, contact:
K.Gunasegharan
Chairman,
Tech Summit – SEASON 3
Email: chairman(at)techsummit(dot)info
Mobile:+919842211022