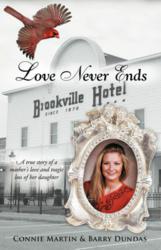 "Love Never Ends" is a testimony to the possibility of healing and hope for anyone who has said goodbye to a loved one.
SALINA, Kan. (PRWEB) August 14, 2012
The existence of the afterlife has always been a hotly debated question, and recent books like Todd Burpo's "Heaven is for Real" relay powerful, persuasive stories of life after death. In their new book, "Love Never Ends" (published by Inspiring Voices) Connie Martin and Barry Dundas join the discussion with their own moving account of life after death and the importance of love.
"There is always a point after I start sharing my story when I am sure the listener is going to think, 'This lady is simply nuts.'" Martin explains. "Either they keep listening to see just how crazy I am or decide that what I have experienced is real."
Both Martin and Dundas confess that up until the events following the death of Martin's daughter, Brandy, they had always approached supernatural events with logic and skepticism. After 17-year-old Brandy died in 1995 following what was supposed to be a routine tonsillectomy, bleeding to death in front of her helpless parents before the ambulance could arrive, Martin's grief was blinding and all-consuming.
Depression and thoughts of suicide were interrupted with what Martin firmly believes was a visit from Brandy "with a message from the other side," she says. She describes receiving a phone call from a close friend with a message from Brandy: to keep on living and know that Brandy was still there for her.
Over the next 15 years, Brandy continued to find ways to communicate with her mother through people and events in ways that Martin says she never could have imagined. The grieving mother's quest to understand her experiences and her belief that her daughter's spirit lives on has helped her to realize that even death cannot stop love.
Written with the help of her pastor, Barry Dundas, Martin tells a compelling story of a love that transcends this world into the afterlife. "Love Never Ends" is a testimony to the possibility of healing and hope for anyone who has said goodbye to a loved one.
About the Authors
Connie Martin and her husband, Mark, own and operate the Brookville Hotel in Abilene, Kan. In 2007, the Brookville Hotel received the James Beard American Classic Award and was recently named one of the Eight Wonders of Kansas Cuisine. This is her first book.
Barry Dundas is the senior pastor at Trinity United Methodist Church in Salina, Kan. A graduate of Saint Paul School of Theology in Kansas City, Mo., he recently won the Harry Denman Award for Excellence in Evangelism. He and his wife, Diana, have two children.
Inspiring Voices, a service of Guideposts, is dedicated to helping authors share their words of hope, faith and inspiration with the world. A strategic publishing partnership with indie book publishing leader, Author Solutions, Inc.; Inspiring Voices allows authors to publish inspirational and spiritual books without respect to their specific doctrine, denomination or political point-of-view. Authors published through Inspiring Voices benefit from access to exclusive Guideposts marketing services, with select titles appearing in a special collection at Guideposts.org. For more information on publishing with Inspiring Voices, log on to inspiringvoices.com or call 866-697-5313.