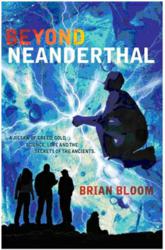 Mr Bloom's two novels, Beyond Neanderthal and The Last Finesse, examine both the immediate and longer term challenges
Sydney, Australia (PRWEB) August 20, 2012
Australian author, Brian Bloom recently announced the publication of two factional novels in e-book format, which are now available over the internet from book retailers across the planet. These novels took Mr Bloom over seven years to research and write. Via their light-hearted and entertaining storylines, both hone in on different aspects of the looming energy crisis, and more importantly, what we might do about it.
That there is indeed a looming energy crisis is a matter of demonstrable fact, as Mr Bloom explains: "Take peak-oil, for example. If one understands how compound growth works, one comes to understand that even if we find as much oil in the future as has been consumed in the past, and all this new oil is recoverable, then all the world's oil will be consumed by a growing world population within 50 years, if not sooner".
Additionally, he points to two recent developments: The first of these was an electricity blackout that affected almost 50% of the entire 1.2 billion population of India on July 31st. The second was the release, on August 7th, of a Memorandum and Order by the US Nuclear Regulatory Commission that announced a temporary hold on issuing licences for new nuclear plants flowing from negative perceptions relating to spent nuclear fuel.
"Since the 1970s, energy return on energy invested has been declining across the planet", Mr Bloom points out. Even though natural gas will serve to buy us some time, we have to embrace energy paradigms that are more powerful than fossil fuels. How can we do that, given the negativity surrounding nuclear, as evidenced by the NRC's recent ruling?"
Mr Bloom's two novels, Beyond Neanderthal and The Last Finesse, examine both the immediate and longer term challenges facing humanity, including misconceptions relating to climate change and energy; and also the clash of civilisations, the rickety world economy and others. At face value, Beyond Neanderthal may seem to be just another Bermuda Triangle book and The Last Finesse may seem like another in a long line of conspiracy books, but below the surface of their humorous and entertaining storylines, there are some serious messages of hope that look beyond currently available energy technologies. For example, The Last Finesse is very explicit about how the spent nuclear-fuel lemon might be turned into lemonade. It devotes more than one chapter to that particular opportunity. Beyond Neanderthal takes a longer term, visionary and spiritually oriented view.
"At the end of the day", he observes, "The politicians are not focusing beyond the next election in a world where we don't have that luxury anymore. We absolutely cannot afford to continue kicking the can down the road. It's a matter of survival. Ordinary people need to be appropriately informed and become more demanding in what they expect from society's so-called leaders. It was my hope that if balanced information is seamlessly delivered in the packaging of light-hearted entertainment, thinking people will take the trouble to read the fact-based novels, and will be inspired to engage in some earnest and sensible discussion across a broad front."
Let's hope he's right. They can be ordered at under $10 a copy via his website at http://www.beyondneanderthal.com