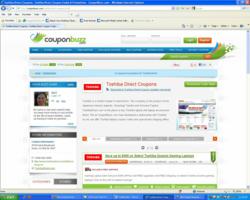 The Satellite S850 is a very nice computer for individuals who are looking for something a bit snazzier higher performance...
Houston ,TX (PRWEB) August 13, 2012
A new Toshiba coupon was featured today by the coupon aggregate website CouponBuzz.com. The coupon offers online shoppers $160 dollars off standard retail pricing for the Toshiba Satellite 850 laptop, one of Toshiba's premium line of laptop computers. The coupon is located in the recently launched section dedicated to gathering all of the top Toshiba coupon codes and special offers, and ranking them according to their money-saving power.
Toshiba, a Japanese electronics and information technology corporation, manufactures computers for a variety of technical needs and budget constraints, ranging from their economy C classes to their luxury X and R class laptops. While an X class laptop functions essentially as a replacement desktop, the S line of laptops, like the one featured in today's Toshiba Coupon, are a step down in size and capability. They are designed primarily for consumers who want a superb high-performance laptop, but do not require the screen size and other premium features of the X or R line of laptops.
"The Satellite S850 is a very nice computer for individuals who are looking for something a bit snazzier and higher performance than an economy laptop, but aren't willing to break the bank on it," said Justin Bowen, the founder of CouponBuzz.com. "These are the consumers who should click this link to access today's featured Toshiba Coupon, which saves them $160 dollars and takes the pricing on the Satellite S850 to just $849."
The Toshiba Satellite S850 features the very latest generation of Intel dual-core processors, the i7-360QM at 2.30 GHz. 6GB of DDR3 memory comes standard with the laptop, but can be upgraded up to 16GB of DDR3 when customizing the laptop selection. A DVD SuperMulti drive is also standard, with double layer burning and playback. Wi-fi, a 1 MP webcam and USB 3.0 and HDMI ports ensure the user stays connected. A 6 cell lithium ion battery provides super long life, and the 15.6 inch screen size is a very comfortable compromise between portability and vision. Full specifications on the Satellite S850 as well as instructions on how to use the Toshiba coupon featured today can be found in the Toshiba section at CouponBuzz.com, located here http://couponbuzz.com/toshiba-direct-coupons.html.