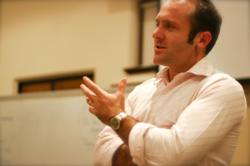 "You get the relationship you think you deserve."
(PRWEB) August 13, 2012
Media entrepreneur and speaker Jonathan Doyle has released a new book entitled 'How to find the man of your dreams' which aims to assist young women navigate some of the complexities of the modern dating and relationships game.
Based on the experience of delivering live seminars to tens of thousands of young women over recent years Doyle's new book explores key issues facing many young women. He argues that consistent research shows young women outperforming young men in both undergraduate and graduate programs but many young women report lower levels of relationship satisfaction and report problems in finding young men of sufficient maturity and commitment to be considered as genuine life partners.
Doyle states, "If you look at the research of people like Kay Hymowitz you discover that we are in the middle of seismic socio-cultural changes. To be honest, many young women seem to assume that one day Mr. Right is just going to walk around the corner, but for many young women this is not the case. They experience a series of relationships, often with what we now term 'man-boys' and then before they know it they are in their 30's wondering when a serious relationship is going to happen. It may not be politically correct to say it but if a young woman wants a great relationship then she is going to have to do some very specific things.And that is what the book seeks to address"
The book explores a range of major themes, many of them focusing on empowering young women to realise that their sense of worth may have been powerfully impacted by the complex interplay of modern media and marketing forces with significant cultural and demographic changes. Doyle advocates that the core dynamic for creating a better relationship outcome for each woman relies both on a better understanding of male psychology and a strengthening of each woman's relationship with herself.
Doyle's career began in education before establishing a successful speaking and media business working closely with the education sector. He has appeared on national television and on radio and is currently completing further postgraduate study in Marriage and Family Studies.