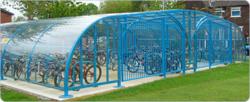 Colin Barber, from Shelter Solutions told us that these Sunlight rooms are a fraction of the cost for a traditional classroom extension, and as they are fitted with electric roller shutters are far more versatile.
Unit 12 Custom Complex, Yardley Road, Knowsley, UK (PRWEB UK) 15 August 2012
Shelter Solutions, the leading cycle and bike shelter provider for schools and councils since 1999, now offers a completely new series of its most demanded line of products like cycle shelters, cycle compounds and outdoor classrooms for educational institutions that are planning to renovate their property. This summer, educational institutions can make use of the golden opportunity to transform their compounds by installing Shelter Solution's products that are coming in a variety of designs to choose from. Shelter Solution's products are easy to install and hence a quick transformation of your school or council compound within the duration of the summer vacations is guaranteed.
If students in your school frequently complain against damage of their cycles due to the cycle stand without a shade, then you can opt for spacious and classy looking cycle shelter to solve this problem. Shelter Solutions is currently offering an extensive range of Cycle Shelters and Secure Cycle Shelters that are made of finest quality steel with galvanized quoting and broad plastisol canopy or roofing system that ensures complete protection of the two-wheelers from rain and other possible damages. At Shelter Solutions, you can choose a Cycle Shelter from the following models:
Vui Bar Cycle Shelter
Wall Hung Cycle Canopy
Quadro Bar Cycle Shelter
40 Cycle Centro
20 Cycle Shelter
Flo Cycle Shelter
The Wall Hung Cycle Canopy is a specially designed cycle shelter that you can install if there is not sufficient place on the land to mark a zone for a cycle stand. Just fit this canopy on a wall that does not obstruct movement of students and staff. This cycle shelter comes with hoops that you need to fix on the walls to hang the cycles. The Quadro Bar Cycle Shelter, which is available in different designs is perfect if you need to make space for huge numbers of cycles. The 40 Cycle Centro is a very spacious cycle stand designed to provide shelter to 40 cycles while the 20 Cycle Shelter is a stylish 'home' designed for 20 cycles.
If you run a council, then surely you need a spacious cycle compound to ensure shelter for lots of cycles as well as motorbikes. Shelter Solutions can provide you with a perfect solution, no matter how big the population of 'cyclist' is in your council. You can choose from Shelter Solutions' best selling Cycle Compound models like:
Standard Maxi Cycle Compound
Standard Mini Cycle Compound
Ingo Compound
The Standard Maxi Cycle Compound is available in two varieties. One is the 80-Cycle Compound and the other is 40-Cycle Compound. You can opt for either one 80-cycle capacity compound or install two 40-cycle compounds and join them together. The Maxi Cycle Compounds come with facilities like lock gates, clear end panels and Walkway Cover. Complete covering of plastisol from all sides ensure total safety of the two-wheelers from all kinds of damages and dirt. The Mini Compound is designed for providing shelter to 20 cycles which too comes with a lock gate and clear end panel. The Ingo Compound is a cage-like shelter that might not impress you by its looks but it is the most secure Cycle and bike shelter available in the global market.
If demand for a space to play is growing in your school then you can gift your little students a great outdoor classroom where an open environment could help them enjoy studying. Shelter Solutions now offers outdoor classrooms in multiple designs from which you can choose one according to your requirement and available space. You may also get a customized outdoor classroom that fit your design. Shelter Solutions can provide you with solutions that cost a fraction of the sum that you would have to spend for setting up a class room or a cycle stand using wood panels and fiber glass shades. Since Shelter Solutions uses the finest British Steel and the absolutely indestructible Plastisol, you can always trust it, as far as durability is concerned. Collin Barber, the manager of Shelter Solutions said the Sunlight Room, one of the best-selling outdoor classroom models by the company could be installed at a cost which is a small fraction of expenditure involved in creating a traditional classroom extension.
For More Information-
Contact:Colin Barber
Protek (SFE) Ltd T/A Shelter-Solutions
Address : Unit 12 Custom Complex, Yardley Road, Knowsley L33 7SS
Business Email id :colin(at)shelter-solutions(dot)co.uk
Phone number : 01942 625 577
Website : http://www.shelter-solutions.co.uk