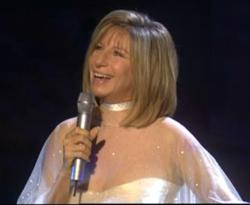 This tour is Streisand's first formal tour in 5 years.
New York, NY (PRWEB) August 13, 2012
Cheap Concert Tickets announces Barbra Streisand concert tour tickets official onsale is on Monday, August 13th at 10:00 a.m. local time in Chicago, Toronto, Ottawa/Kanata and Vancouver. This tour is Streisand's first formal tour in 5 years and supporting acts will be Chris Botti and Il Volo. This popular and well known online ticket exchange has also offered an exclusive customer discount code, BARBRA, and advises that all tickets are always screened for authenticity.
Barbra Streisand is 70 years young and she is a multi-talented American artist. She is an accomplished actress, writer, singer, producer and director. Over the years, Barbra has earned a literal bushel of awards including: 8 Grammy Awards, 2 Academy Awards and 5 Emmy Awards. Barbra also earned a Peabody Award, a Daytime Emmy, American Film Institute Award and a Special Tony Award.
Streisand was born in 1942 in Brooklyn, NY and has been an active entertainer for 55 years beginning in 1957. Over the years she has sold 71.5 albums in the Untied States and 140 million albums worldwide. Barbra has sold more albums than any other female artists on the Recording Industry Association of America's RIAA Top Selling Artists list. Even more amazing is that Streisand is the only female artist on the top ten list and the only entertainer outside of the rock and roll category. An interesting fact for trivia buffs is that only Frank Sinatra, Shirley Jones, Cher and Barbra Streisand have had both a No. 1 single and an Oscar to their credit.
]Additionally, Streisand has had 32 top ten albums since 1963. She also has the incredible distinction of having a 48 year stretch between her very first top ten album and her most recent one. Her most recent album "Love is the Answer" which came out in 2009 made her one of the unique singers to have number one status albums in 5 decades in a row. Over the years Streisand has released a total of 51 Gold albums, 30 Platinum albums and 13 multi platinum albums in the States.
Cheap Concert Tickets has great pricing on Barbra Streisand Tickets, The Monkees tickets and The Who Tickets.
About CheapConcertTickets.me:
CheapConcertTickets.me delivers tickets to sold out concerts and events worldwide when no one else can, and they do so at discounted prices. As a member of TicketNetworkDirect, they can guarantee the delivery of tickets on time for sporting events like NASCAR, NBA, NFL, and NHL, and for the hottest theater and concert events too. With CheapConcertTickets.me customer service is a priority, for more information email support(at)cheapconcerttickets(dot)me.