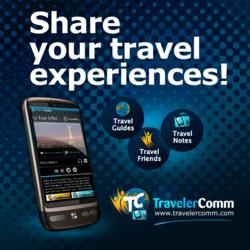 On August 22, 2012, 6 AM UTC/GMT, a new tourist application, TravelerComm, will be made available for Android users.
(PRWEB) August 22, 2012
The new app from TravelerComm Apps Ltd., TravelerComm, is an Android App that features three useful tools every traveler should have: Travel Notes, Travel Friends and Travel Guides. This app makes it easy for people to stay connected with friends and family, share experiences, and navigate new places while they are away from home. It is both practical and entertaining to use.
Travel Guides provides offline maps of cities and well-known locations, as well as recommendations for travelers based on the region or city there are in. This app can give information through audio as well as text, which can be very convenient for hands free listening. TravelerComm experts developed this software to be extremely thorough and detailed so that users won't miss out on anything a city has to offer. Users can locate themselves on the Travel Guide map to find out what is close and where they are situated in relation to other places they may want to visit.
The sub-application, Travel Maps, contains a measuring tool and POI. Offline maps save users considerable costs by transferring mobile data for a small price. There are over 750 maps included with this application, and each one shows a wide array of tourist attractions.
Travel Notes, in its full version, offers users the ability to share their travel experiences with other travelers. All of the notes and photos that are shared with Travel Notes are backed up and can be replaced in the event of a lost or stolen phone. Think of this as a social network made especially for wanderers, and all those who share a passion for travel and experiencing new places. There is a free version and an inexpensive upgrade with some additional features available.
TravelerComm Apps are easy and fun to use. The developers have made these travel tools so that they are accessible all over the world, and have clear instructions for new users. People who have used Travel Guides and Travel Maps say that they are addicting, and look forward to the new addition of Travel Notes.
For more information, contact:
Website- http://www.travelercomm.com/
Email- info(at)travelercomm(dot)com
Twitter- @TravelerComm
Blogger- http://travelercomm.blogspot.com/