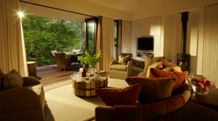 The Treehouse Suites are like floating pavilions that nestle high amongst the trees in a natural setting.
New Forest, Hampshire (PRWEB UK) 14 August 2012
Defying the elements and opening ahead of schedule, despite the rigours of one of the wettest springs and summers in decades, the fabulously sophisticated and luxurious Treehouses welcomed their first guests to Chewton Glen's 'Grand Designs' style project, which consists of twelve Treehouse Suites, located in six wooden lodges, supported on stilts in the tree canopy overlooking a secluded and picturesque valley in the grounds of the hotel in Hampshire.
The Treehouse Suites are like floating pavilions that nestle high amongst the trees in a natural setting. They have a very open outlook with picture windows and doors leading on to large wrap-around balconies. However there is no feeling of being overlooked. The trees surrounding them ensure that the suites are like hideaways. They have a real sense of privacy. The design has taken into consideration the way the suites are positioned to enjoy the sunset at the end of the day, they are quietly contemporary and curvaceous and their restrained interiors are the inspiration of designer Martin Hulbert, who has commissioned bespoke furniture to accommodate the curved walls and dressed everything in a palate of neutral colours and tweedy fabrics.
The interior and exterior design builds on the idea of the luxury suites being places of escape, with an 'other-worldly', almost whimsical or magical quality to them. They are a tranquil oasis where guests can truly relax and indulge themselves in peace and quiet. They are also adaptable spaces, designed with both couples and families in mind.
Ambient lighting creates different moods and settings which brings to life the contemporary classic style of interior design. Each suite has a small kitchen area where breakfast hampers are discretely delivered in the morning via a secret hatchway without disturbing the guests. The spacious lounges with their large curved seating areas take advantage of the beautiful views, log burning stoves add warmth and ambience, and stunning artwork enriches the suites. Discretely located state-of-the art communications and entertainment systems further enhance the guest experience.
The award-winning design also incorporates large dressing areas, beautifully proportioned bedrooms with generous storage and wonderful views and access through the picture window out onto the desk that envelope the Treehouse Suites, complete of course with their own hot tubs. A number of the suites also have a large secret bunk room, ideal for children and accessed via an innovative 'Swedish staircase'. With the option of booking the complete lodge, including both suites and the bunk room upstairs, extended family groups and parties of friends will find the Treehouse Suite option a flexible solution to their accommodation requirements.
Commenting on the completion of the Treehouse Suites, Chewton Glen's Managing Director, Andrew Stembridge said: "Our aim was to create the perfect environment, a relaxing location designed to exceed expectations; the Treehouses remain hidden from the main hotel in their secluded and peaceful valley, which can only be reached on foot, or by buggy. They provide a wonderfully luxurious destination for guests. Bringing together the creative design skills of Blue Forest and the technical excellence and experience architects Terence O'Rourke, we feel proud to have created such an outstanding project which has already captured the imagination of our guests, who ensured that we opened to a full-house last week.
EDITOR'S NOTE
Chewton Glen is a five-red star privately-owned luxury country house hotel, located on the edge of the ancient New Forest National Park in Hampshire and just a few minutes' walk from sea. Chewton Glen has a world-class spa and leisure activities including a nine-hole par three golf-course, croquet lawn, indoor tennis centre and outdoor tennis courts. The luxury hotel has 70 individually designed luxurious bedrooms, suites, and Treehouse Suites, an internationally acclaimed restaurant, together with private dining, banqueting and modern meeting facilities.
TREEHOUSE SUITE TARIFF
Suite - Sleeps - Size - Sun to Thur - Fri & Sat
Treehouse Studio Suite - 2 - 61 sq m - £600 - £700
Treehouse Loft Suite - 4 - 71 sq m* - £800 - £900
Treehouse Hideaway Suite - 3 - 86.5 sq m - £1,200 - £1,400
Private Treehouse (* Type 1) - 6 - 132 sq m - £1,300 - £1,500
Private Treehouse (**Type 2) - 7 - 157.5 sq m - £1,700 - £1,900
Prices are per Treehouse Suite or complete Treehouse per night and include a fabulous breakfast hamper delivered to the suite each morning, together with full use of the award-winning spa and leisure facilities at Chewton Glen, prices also include service charge and VAT. Treehouse Loft Suites are ideal for families with a bunk room upstairs with two single beds and additional two pull-out beds.
Private Treehouse Type 1* comprises 1 Studio Suite and one Loft Suite with a total size of 132 sq m plus 16.5 sq m for the bunk room. Private Treehouse Type 2** comprises 1 Loft Suite and 1 Hideaway Suite with a total size 157.5 sq m plus 16.5 sq m. for the bunk room
Reservations: Tel: 01425 282212. Email: reservations (at) chewtonglen (dot) com
Chewton Glen's Treehouse Suites have already received their first awards. National planning and design consultancy Terence O'Rourke Ltd, and artistic project designers Blue Forest, have received a double honour for their excellent work at Chewton Glen at the prestigious 'International Hotel Awards' held earlier this year when the Treehouse Suite project was voted the 'Best Hotel Architecture UK', and the 'Best New Small Hotel Construction & Design UK'.
Blue Forest is an award-winning company that specialises in the design and construction of luxurious tree houses and unique sustainable buildings. The company is renowned for creating buildings that reflect the environment in which they are built. Their portfolio includes everything from fantasy tree house castles, treetop dens and tree house hideaways to exclusive accommodation for the hotel and leisure industry.
Contact:
Simon Payne, Blue Forest
E.mail: simon (at) blueforest (dot) com
Tel: 01892 750090.
http://www.blueforest.com
Terence O'Rourke is an award-winning practice that specialises in town planning, urban design, environmental consultancy, landscape architecture and architectural design. They provide an inspired and imaginative response, unlocking opportunities at the forefront of best practice and at the cutting edge of commercial thinking. By integrating their disciplines they provide clients with a bespoke team of experts tailored to meet project needs providing innovative solutions to the most complex planning, environmental and design challenges.
Contact:
Terry Williams, Terence O'Rourke
Tel: 01202 421142
Email: terry.williams (at) torltd (dot) co (dot) uk
http://www.torltd.co.uk