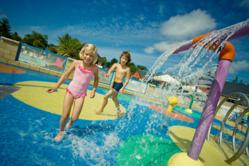 Enjoy some last-minute summer sun at the end of August and save up to £197 with siblu
(PRWEB UK) 13 August 2012
Enjoy the very last of the last-minute summer savings with these August 25 summer holidays to France with siblu villages.
Each holiday includes free children's clubs, sports facilities and lifeguarded pool complexes with waterslides, so it's a great chance for the kids to have a pre-school run around without busting the bank for mum and dad.
Charente Maritime, saving £194
Charente Maritime is the sunniest region of France's west coast and has massive sandy beaches hidden by forests of pine trees. Les Charmettes is a giant holiday village with an indoor and outdoor pool complex with slides and fountains that the kids will love. Nearby attractions include the historic port of La Rochelle and La Palmyre zoo, which is one of the biggest in Europe. Seven nights from 25 August start from £583 for a holiday home for up to six people – a saving of £194 (http://www.siblu.com, 0871 911 7777).
Brittany, saving £197
Brittany has the longest coastline in France with white-sand beaches, serene harbours and craggy coves to discover. Four-star Domaine de Kerlann in southern Brittany has indoor and outdoor pools and an action-packed splash zone, and the parc is located close to the pretty town of Pont Aven which inspired the artist Gauguin for much of his life. A holiday home for up to six people for seven nights from 25 August starts from £594, down from £791 (http://www.siblu.com, 0871 911 7777).
Loire Valley, saving £85
Domaine de Dugny is a four-star holiday village close to several of the grand chateaux for which the Loire Valley is famous, including the region's largest castle, Royal Château at Chambord; the stunning Château Chenonceau which spans the Loire River, and Château Royal d'Amboise, once frequented by Leonardo da Vinci. Seven nights from 25 August start from £612, saving £85 and based on a holiday home for up to six people (http://www.siblu.com, 0871 911 7777).
All holidays and prices are subject to availability.
About Siblu Villages
Siblu owns and runs 14 leading holiday villages in France, in Normandy, Brittany, Loire Valley, Vendée, Charente Maritime, Aquitaine, Languedoc and Côte d'Azur. All of siblu's holiday villages have large pool complexes, a wide variety of sport, free children's clubs and evening entertainment.
Become a fan of siblu at http://www.facebook.com/sibluholidays or follow @sibluholidays on Twitter.
For more information contact:
Daniel Johnson
Daniel Johnson Public Relations
T: 07429 256 670
E: daniel (at) danieljohnsonpr (dot) com