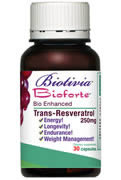 Oral supplementation of resveratrol is thus found to be effective in improving glycemic control and may possibly provide a potential adjuvant for the treatment and management of diabetes
New York City, N.Y (PRWEB) August 14, 2012
Results from an independent clinical trial published online July 30, 2012, revealed that supplementation of resveratrol for three months significantly improves the mean hemoglobin in Type 2 Diabetes Mellitus. Other results included lowered blood pressure, and improved blood cholesterol levels.
Biotivia's 250 mg. Bioforte™ was used in in an open-label, randomized, controlled trial study conducted by Jayesh Kumar Bhatt, et al, at the JSS College of Pharmacy, India, and the School of Pharmacy, University of Nizwa, Oman.
Sixty-two Type II Diabetes patients were enrolled from Government Headquarters Hospital in Ootacamund, India. The patients were randomized into both intervention and control groups. The intervention group received of Biotivia Bioforte™ resveratrol (250 mg. per day) along with their oral hypoglycemic agents for a period of three months, whereas the control group received only oral hypoglycemic agents.
The ground-breaking determination, according to the study showed, "Oral supplementation of resveratrol is thus found to be effective in improving glycemic control and may possibly provide a potential adjuvant for the treatment and management of diabetes."
In an earlier peer-reviewed, published human clinical trial at Albert Einstein Medical College, in New York, Biotivia's Transmax supplement was shown to improve glucose tolerance in pre diabetic patients. Taken together the results of these two human trials present a compelling case for the consideration of Bioforte supplementation both as a preventative regimen, and as a co treatment administered alongside the standard glucose control pharmaceuticals.
Biotivia developed Bioforte™ as a bio enhanced pharma grade supplement 6 years ago, and since that time it has been used in several human and in vitro investigations of the health benefits of resveratrol. The company harvests its own organic raw materials and extracts the Resveratrol in their own facility, using a patented low temperature vacuum system.
Bioforte Resveratrol supplement contains no synthetic or genetically modified Resveratrol and no fillers, additives, or expanders, making it the ideal choice for clinical trials.
The entire line of Biotivia's Resveratrol supplements are packed in advanced all vegetable Pfizer® Vcaps – which, unlike traditional gelatin capsules, keep out oxygen, light and other contaminants that destroy potency.
Biotivia worked with a major Japanese manufacturer to develop a packaging system which captures the oxygen which enters the bottle when a capsule is retrieved. The products are suitable for vegetarians and people who follow a gluten-free diet. Additionally, they are Certified Vegan by the American Vegetarian Association.
Study Citation: Bhatt JK, et al, Resveratrol supplementation improves glycemic control in type 2 diabetes mellitus, Nutr
Res (2012), doi:10.1016/j.nutres.2012.06.003
About Biotivia:
Biotivia is a manufacturer of bioceutical supplements for the medical, consumer and functional food markets. Based in New York, Singapore, London, Spain, and Italy, the company manufactures a line of premium, science-based supplements including the original high potency Transmax™ Resveratrol and Transmax TR™, the only 12 hour sustained release Resveratrol supplement. Additional Resveratrol–based formulas include, among others, BioSpan™, BioForge™ and BioShape™. The company recently released a high potency, stilbene complex, PteroMax™ and research grade PteroActiv™.
Biotivia collaborates with scientists and universities worldwide on human clinical trials of their products, and employs a formidable staff of in-house scientists:
James Betz, Ph.D in Cell Biology
Saurabh Shah, Ph.D in Biology and Medical Research
Payal Shah, Ph.D Pharmacist
Philip Akers, Degree in Chemical Engineering and MBA from Harvard
Serge Boileau, Ph.Ds in Chemistry and Biology and Professor of Biochemistry for 35 years
Abbas Green, MD and PhD, specializing in Endocrinology
Gloria Sabater Ph.D pharmacist
Wolf-Dieter Rhewoods Professor and Ph. D in Biochemistry