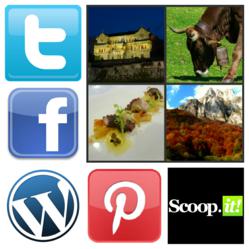 Going beyond traditional media and increasing our information distribution channels validates our reputation as local experts
Santander, Spain (PRWEB) August 15, 2012
Although lesser known than the rest of the country, Northern Spain already has several destinations on the radar of many travelers, including San Sebastian, Bilbao and Santiago de Compostela. Northern Exposure Spain, a boutique provider of custom tours in the area, has recently expanded its social media presence to continue educating travelers about the many other offerings of this hidden corner of Spain beyond what gets reported in traditional media.
The Guggenheim Bilbao will celebrate its 15th anniversary this October, Santander will host the ISAF World Sailing Championships in 2014 and San Sebastian was recently named European Cultural Capital of the Year for 2016. Travelers hear the rumblings of this part of Spain in the news but they are not getting the whole story. Many can be apprehensive about choosing a lesser known destination. Green Spain need not be a destination that makes travelers think twice, posing questions such as: "How come I´ve never heard of that place before?" or "What about the weather in that part of Spain?" Now, through its increased social media presence, the Company hopes to expose travelers to a unique travel destination whose offerings go beyond the weather and what is in mainstream media.
Northern Spain is happening right now. It is a hotbed for international cuisine with San Sebastian at the epicenter and constantly in the media. Beyond San Sebastian, Michelin stars dot Green Spain from East to West. The wines produced here, such as the reds of Rioja or Ribera, the whites of Rueda or Galicia or the rosés of Navarra or Cigales, are now drawing the attention of the choosiest wine critics. This area of Spain has been happening for millennia. A storied history, defying conquering Romans, Visigoths and Arabs, has left an indelible mark delighting unsuspecting travelers and enriching this culturally unique area. Its natural beauty is hard to overlook with the Cantabrian Sea to the north and a verdant mountainous interior.
"Social media is clearly here to stay and the perfect avenue for us to educate potential clients not only about our Company but also about the unique area we operate in," stated Charles Schwalbe, Chief Experience Officer (CEO) at Northern Exposure Spain. "Sharing the hidden secrets of this area of Spain via a diversified social media strategy builds awareness of its overall richness from a travel perspective. This area is not about sitting at a resort, it´s about getting out seeing, feeling and eating your way through it. Going beyond traditional media and increasing our information distribution channels validates our reputation as local experts on how to do just that."
Northern Exposure Spain has recently expanded its social media presence and now manages seven separate social media profiles in addition to its own website. The Company shares current, relevant content highlighting lesser known facts about this unique area via the following profiles:
Twitter:
@NExSpain
Facebook Page:
Northern Exposure Spain
Wordpress Blog:
Northern Exposure Spain - northernexposurespain.wordpress.com
Pinterest (New):
NthrnXposureSpain - pinterest.com/nexspain/
Scoop.it! (New):
Northern Spain, Green Spain - scoop.it/t/northern-spain-green-spain
Wines of Northern Spain - scoop.it/t/wines-of-northern-spain
Travelers can expand their own knowledge of the area by following each of the social media profiles of the Company, which is known for providing clients with unique travel experiences in this hidden corner of Spain. Northern Exposure Spain ensures clients get what they want out of their travel by catering tours to their specific interests and preferences. Interested travelers can learn more about the Company and experiencing the essence Northern Spain here, or contact Charles Schwalbe directly at 888-737-8146.
About Northern Exposure Spain
Northern Exposure Spain provides unique, custom tours in Northern Spain. Based in Cantabria, at the heart of Green Spain, the Company tailors tours to client preferences and interests, highlighting the history, cuisine, wine, culture and natural beauty of this lesser known but surprisingly rewarding area of Spain.