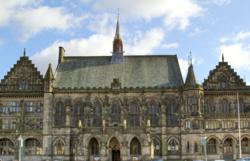 Rochdale is an excellent location for start-ups, with a new business park, lots of support for new companies and easy access to Manchester.
UK (PRWEB UK) 16 August 2012
Rochdale: Rochdale has enjoyed a record Q2, with more companies being set up than any other Q2 on record. There were 159 new company formations, beating the previous record of 156 that was set in 2006, before recession hit the country.
The town is actively seeking new economic investment through the Rochdale Development Agency. The agency was set up in 1993 by the borough council and employs 30 people who work in partnership with other agencies to support businesses, redevelop the town centre, cut unemployment and regenerate neighbourhoods. Over the next 10 years, the agency aims to help create 10,000 new jobs and secure hundreds of millions of pounds of new investment.
The Kingsway Business Park is one of the many projects underway in the area. The 420 acre mixed-use site will serve the needs of local, regional, national and international businesses, and will support more than 7,000 jobs phased over the next 10 to 15 years. The town centre is next on the list for redevelopment, with a major regeneration plan that includes a new retail area and improved transport and accessibility.
Managing Director of Duport.co.uk, Peter Valaitis said:
"Rochdale is an excellent location for company formation, with a new business park, lots of support for new companies and easy access to Manchester. The record number of businesses formed in the last quarter is a sign that regeneration of the area is having a positive impact."
New companies are wise to set up in Rochdale, as it looks set to become an important economic hub in the next few years.
Duport Associates Ltd is a leading UK company formation agent, operating in the UK for around 15 years. Duport registers around 10,000 new companies each year using its Companies House approved software. The Company Register which is maintained by Companies House contains public information about Limited companies and directors.