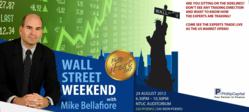 (PRWEB) August 14, 2012
Interested to learn what a professional trader does before market opens and how they trade? What sort of strategies do they use throughout the day? Do they rely only on Technical Analysis and if so, how do they read chart patterns as the candlesticks appear? The answers to these questions will be revealed through a series of events which we like to call, the Wall Street Weekend – where you will learn how to trade the US markets over (well) a weekend.
PhillipCapital has partnered with Mike Bellafiore, successful author and co-founder of SMB Capital, a proprietary firm based in New York City, to develop a training course as well as to be one of the speakers during our inaugural Phillip Investment Festival (iFest for short). Phillip iFest kicks off on the 24th August with the Wall Street Weekend seminar, where the audience will experience the life in the day of a prop trader. They will be immersed in SMB Capital's AM Meeting, the daily morning meeting where SMB's team of traders brief each other on the latest stocks which they think are 'in play' and how they are going to trade them. When the NYSE opening bell rings at 9.30pm (Singapore Time), attendees will be able to see Mike and his partner trade LIVE while Mike explains the various trade set ups and strategies. This is the closest a retail investor will be able to see how the professionals trade intraday and how best to switch strategies, depending on the market movement.
Still unfamiliar with the US markets and want a solid foundation in trading it? The Wall Street Weekend is so-called because we have adapted an intense 9-hour training session (spread over 25th and 26th August) from SMB's renowned professional trading course, where Mike himself will go through the basics of stock selection, risk management and the path of being a profitable trader. For the whole Wall Street Trading Foundation Programme, this includes the 9-hour session as well as 4 other sessions which spread out till 20th September and students will get to learn from other SMB Capital partners and equip themselves with skills that will allow them to trade not just the US markets but any markets anytime, anywhere.