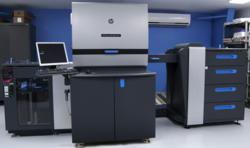 Our customers are looking for ways to differentiate through customization, quality and cost. The 5600 helps us do that and much more. Mike Fitch, Leader Digital Services
Perry, New York (PRWEB) August 15, 2012
J.N. White Designs, a leading provider of end-to-end printing solutions to thousands of companies around the world from its state-of-the-art facility in Western New York, has expanded their digital printing capacity for both standard and variable data printing with HP's most advanced digital printer, the Indigo 5600 Digital Press. The printer is operating in a dedicated controlled room within J.N. White's expansive 25,000 square foot facility.
"With the new 5600 Digital Press we will continue to provide end-to-end print solutions for the high-tech industrial customer requiring ultimate precision, as well as expand our digital services in the commercial segments of marketing communications, brochures, business cards and promotions," said J.N. White's President and CEO Randy White. "Our continuing efforts to provide customers with even greater flexibility, speed and quality for their customized printing projects drove our decision for this investment. Importantly, the 5600 gives us increased capacity to deliver cost-effective printing solutions in the fast-growing segment of variable data printing."
The additional digital printing capacity complements the company's current production of precision custom printing solutions as well as providing a hybrid solution for printing jobs that require a combination of digital and screen-printed materials. "A key benefit of the 5600 is its versatility. The printer can seamlessly change between different jobs, including different media types without the costly set-ups usually associated with digital print production. This gives our customers faster turnaround, consistent quality and more options for their high-value printing projects, especially on synthetic substrates." said Ken Boss, VP of Sales and Marketing.
About J.N. WHITE DESIGNS
J. N. White Designs is one of the nation's leading custom printers, providing a one-stop source for high-tech, custom printing solutions. Headquartered in Perry, New York the company was started by James Neel (J.N.) White in 1960 establishing the same mission for the company that holds true today; "For both decorative and functional applications, from design to production, J.N. White Designs provides customized, integrated solutions to meet our customer's needs for custom printed products, component parts and sub-assemblies. Through our responsive, well-trained, and ethical employees, we create value for our customers, our community, and our company."
Combining the latest in training, technology and equipment, J.N. White Design's skilled workforce produces digital and screen printed labels, decals, nameplates, graphic overlays, business documents and high-tech membrane switch control panel assemblies. Projects are taken from design through prototyping directly to production. In addition to being ISO 2008 certified, the company maintains status as ITAR compliant.
Anyone interested in contacting J.N. White Designs for more information on the company's printing solutions can visit http://jnwhitedesigns.com or call 1-800-227-5718.
Media Contact
Mike Fitch
585-237-5191
http://www.jnwhitedesigns.com