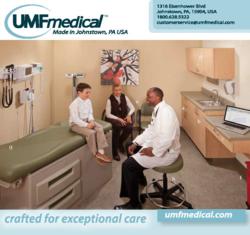 "As the medical industry continues to evolve, the environment at UMF Medical is innovative and poised for growth," says Kenis.
Johnstown, PA (PRWEB) August 14, 2012
UMF Medical today announced the addition of Joe Kenis as VP of Sales. The hiring comes as UMF Medical, the medical exam room equipment manufacturer, continues to grow and develop its new leadership team.
Kenis has more than 20 years of broad-based healthcare sales experience, including his most recent sales management role with Henry Schein, a leading worldwide distributor of healthcare products and services to medical practitioners. Most notably in this role, Kenis grew year over year sales and exceeded sales and gross profit expectations by building a successful sales organization.
"Joe's entrepreneurial management style and history of building and retaining highly-motivated sales teams, along with his strong distributor networks, makes him an exceptional choice for UMF Medical," said Eileen Melvin, President and CEO. "We are truly excited to have Joe leading our sales growth."
A 56-year veteran in the industry, UMF Medical has a rich history of providing exam room equipment for health care providers around the world. Melvin notes that Kenis will be an integral part of the leadership team helping UMF Medical navigate the new opportunities created with implementation of healthcare reform.
"The team at UMF Medical really knows and understands the needs of their customers," says Kenis. "As the medical industry continues to evolve, the environment at UMF Medical is innovative and poised for growth."
The announcement of Kenis' hiring comes after UMF Medical conducted a nationwide search for the best candidate to fill the position.
###
About UMF Medical
UMF Medical is dedicated to supporting improved patient health through efficiencies, reliability and durability. Located in Johnstown, Pennsylvania, the company manufactures excellent quality exam room equipment solutions that are efficient and reliable for health care providers, and safe, comfortable and respectful for all patients. The US Small Business Administration named them the 2011 Small Business Exporter of the Year, and recently they were certified as a Women's Business Enterprise (WBE). In business for more than 56 years, UMF Medical's exam tables and power procedure tables, stainless steel products and full line of exam room equipment are recognized around the world for exceptional quality and durability. Read more at http://www.umfmedical.com.