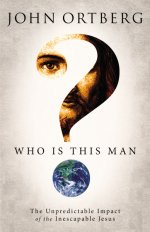 Grand Rapids, MI (PRWEB) August 13, 2012
Bestselling author John Ortberg's Who Is This Man: The Unpredictable Impact of the Inescapable Jesus (Aug. 7, 2012, Zondervan) debuts at the #3 position on Amazon's New Releases chart while climbing to No. 17 on Amazon's Top 100 Best Selling Books list in its first week of publication.
"This is an incredible introduction for John Ortberg's Who Is This Man?," said Don Gates, Vice President of Marketing at Zondervan. "John has opened eyes across the nation to the undeniable and ubiquitous influence of Jesus with his in-depth research and powerful insights. As readers engage the material, they will be amazed and inspired."
Various high profile names from all spheres of influence have already recognized the book for its thought provoking revelation of the realities regarding who Jesus is and his unmistakable impact on our world. "John Ortberg gives those who believe and those who are perhaps not so certain a compelling reason to seek answers," said Condoleezza Rice, former U.S. Secretary of State, in the book's foreword.
Citing Jesus' largely unknown influence on every facet of life including our calendar system, art, architecture, music, government, medicine and education, Ortberg reveals that Jesus has been the most dominant historical figure of the last two millennia.
"Jesus' impact was greater a hundred years after his death than during his life; it was greater still after five hundred years; after a thousand years his legacy laid the foundation for much of Europe; after two thousand years he has more followers in more places than ever," writes Ortberg.
Jesus never married; yet he transformed the treatment of women and led to the dissolution of a sexual double standard encoded in Roman law. He never gave an academic lecture; yet his teachings led to such a reverence for learning that the movement he started would give rise to libraries and guilds of learning, including Oxford, Cambridge, Harvard and Yale. Jesus never held office or led an army; yet the movement he started dissolved emperor worship, began a tradition of common law and limited government, and undermined the power of the state where most religions reinforced it. The length of a human life is even measured by its distance from Jesus' death.
In support of his new release, Ortberg appeared last week at the Willow Creek Global Leadership Summit in Chicago which was simulcast to more than 200 venues across the country. For more information on Who Is This Man? and John Ortberg, please visit http://www.whoisthisman.info.
About the Author: John Ortberg is a pastor at Menlo Park Presbyterian Church in Menlo Park, Calif. He is the best-selling author of When the Game Is Over, It All Goes Back in the Box; The Life You've Always Wanted and If You Want to Walk on Water, You've Got to Get Out of the Boat. He and his wife Nancy have three children.
About Zondervan: Zondervan is the world's leading Christian publisher of books whose authors are noted for their excellence in the craft of writing as well as their worthy contribution to the ongoing global evangelical conversation. The works published by Zondervan not only confirm readers' faith and understanding, they also challenge and stretch readers' thinking. For more than 75 years, Zondervan has delivered transformational Christian experiences through general, ministry and academic resources by influential leaders and emerging voices, and has been honored with more Christian Book Awards than any other publisher. Headquartered in Grand Rapids, Mich., Zondervan publishes bestselling books, audio, video, curriculum, software and digital products in such categories as biblical languages and studies, biography, business, contemporary issues, counseling, cultural, devotional, evangelism, family, fiction, history, inspiration, leadership, ministry, pastoral, personal development, prayer, philosophy, reference, relationships, textbooks, theology, youth and more. Zondervan resources are sold worldwide through retail stores, online, and by Zondervan ChurchSource, and are translated into nearly 200 languages in more than 60 countries. Visit Zondervan Books on the Internet at http://www.zondervan.com/books.
-30-