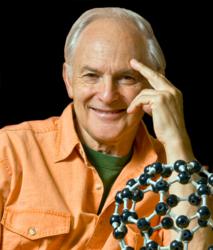 Science was born out of curiosity, not out of expedience, and it is still true today that many major breakthroughs are made by the openly curious who generally uncover breakthroughs which those with more focused attitudes tend to overlook.
Pittsburgh, PA (PRWEB) August 15, 2012
The Program Committee is pleased to announce that Nobel Laureate Sir Harold (Harry) Kroto will deliver the Pittcon 2013 Wallace H. Coulter Plenary Lecture, "Exameter Objects to Nanometer Ones and Back Again." The Plenary Lecture will be part of the Opening Session for the Technical Program at Pittcon 2013 which will be held in Philadelphia, Pennsylvania, March 17-21, 2013.
Sir Harry Kroto is currently a Francis Eppes professor of Chemistry at Florida State University, where he is carrying out research in nanoscience and cluster chemistry as well as developing exciting new Internet approaches to STEM educational outreach. In 1996, he was knighted for his contributions to chemistry and later that year, was one of three recipients of the Nobel Prize for Chemistry in 1996. He is a Fellow of the Royal Society of London and holds an emeritus professorship at the University of Sussex in Brighton, United Kingdom.
He has numerous awards including the Copley Medal, Faraday Lectureship of the Royal Society as well as the Tilden Lectureship and Longstaff Medal of the Royal Society of Chemistry. Other awards include the Louis Vuitton – Moet Hennessy Science pour l'Art prize and the Italgas Prize for Innovation. He holds some 36 honorary degrees from universities all over the world and is a Freeman of the City of Torino. He has been on the Board of Scientific Governors at Scripps Institute since 2004 and was elected a Foreign Associate of the National Academy of Sciences in 2007.
Kroto will present recent results from his work at Florida State University which has uncovered
fascinating new information on how fullerene molecules are created in the laboratory. He will also discuss the way that original studies of carbon chain molecules in the laboratory initiated radioastronomy discoveries in massive interstellar clouds and stars which in turn led
to the laboratory experiment that uncovered the totally unsuspected existence the C60 cage molecule. The most recent fascinating breakthrough is the discovery by Canadian astronomers that the molecule is in some stars.
Get more information on the Plenary Lecture and Pittcon 2013 at http://www.pittcon.org.
About Pittcon
Pittcon® is a registered trademark of The Pittsburgh Conference on Analytical Chemistry and Applied Spectroscopy, a Pennsylvania non-profit organization. Co-sponsored by the Spectroscopy Society of Pittsburgh and the Society for Analytical Chemists of Pittsburgh, Pittcon is the premier annual conference and exposition on laboratory science. Proceeds from Pittcon fund science education and outreach at all levels, kindergarten through adult. Pittcon donates more than a million dollars a year to provide financial and administrative support for various science outreach activities including science equipment grants, research grants, scholarships and internships for students, awards to teachers and professors, and grants to public science centers, libraries and museums. Visit Pittcon.org for more information.