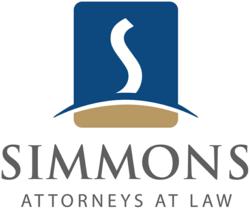 The Harrisburg community is extremely grateful to the Simmons Law Firm, Dorrisville Baptist Church and all the other countless organizations and volunteers who have stepped up to help us in our recovery and efforts to rebuild
Alton, IL (PRWEB) August 14, 2012
Months after a deadly tornado ripped through Harrisburg, Ill, the Simmons Firm has announced a second $10,000 donation today to the City of Harrisburg Disaster Relief Fund. The donation will help dozens of school children after the F4 tornado destroyed acres of homes and property on Feb. 29. The Simmons Firm is headquartered in Alton, Ill., approximately two hours north of Harrisburg.
"Many of us at the law firm have young children, " said Simmons Firm Chairman John Simmons. "As we were starting our back to school shopping routines, we were reminded that our neighbors in Harrisburg may need a little support this school year."
This newest donation brings the total the firm has donated to the relief fund to $20,000. The current donation will benefit an on-going Back-to-School drive organized by the Dorrisville Baptist Church in Harrisburg, Ill. Classes for Harrisburg District students resume Aug. 17 while kindergarten begins Aug. 27.
The tornado was part of a storm system affecting the Midwest and South on Feb. 29, killing 14 people in four states. In Harrisburg, 100 people were injured and between 250 and 300 houses were damaged or destroyed, according to news sources citing the Saline County Sheriff's Office.
Harrisburg Mayor Eric Gregg said he is grateful for the outpouring of support his community has received during the past months from volunteers, community groups and businesses like the Simmons Firm.
"The Harrisburg community is extremely grateful to the Simmons Law Firm, Dorrisville Baptist Church and all the other countless organizations and volunteers who have stepped up to help us in our recovery and efforts to rebuild," Gregg said. "It's thanks in part to them that we are not only rebuilding, but making Harrisburg even better than before."
He added that the law firm's donation will help youth impacted or displaced due to the tornado with their back-to school-needs. In addition to regular school supplies, like notebooks, markets and back packs, the drive is also seeking donations for haircuts, gym shoes and socks, and new underwear, according to the church's web site.
Cash donations can be made by sending a check made out to "City of Harrisburg Disaster Relief Fund" to Legence Bank, P.O. Box 297, 502 N. Commercial Street, Harrisburg, IL 62946.
About the Simmons Firm:
The Simmons Firm, headquartered in Alton, Ill., is one of the country's leading asbestos and mesothelioma law firms. With offices in Illinois, Missouri and California, the firm has represented thousands of patients and families affected by mesothelioma in every state. The Simmons Firm has pledged nearly $20 million to cancer research and proudly supports mesothelioma medical researchers throughout the country in order to find a cure. For more information about the Simmons Firm, visit http://www.simmonsfirm.com.