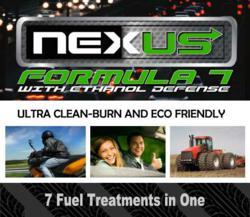 "We're proud to offer a plan that can help combat rising fuel costs and offer folks a real business opportunity", remarks, Jack Keller, Vice President of Marketing.
Myrtle Beach, SC (PRWEB) August 14, 2012
Nexus Fuel Products line of fuel catalysts have a proven track record for improving motor vehicle performance, but most impressive are the testimonials from satisfied customers claiming significant fuel mileage improvements. From owners of mini-vans to over-the-road tractors Nexus Fuel Products customers swear by their results. The company is announcing the roll-out of a direct sales program targeting individuals who may desire to distribute their fuel-saving line of products.
"We wanted to move cautiously into this market," said Bill Lagan of Nexus Fuel Products. "Online retail sales gave us an opportunity to refine our processes and make sure we could keep up with demand. Now, we're ready to take another step in distribution and we feel like offering individuals the opportunity to purchase and resell our products will give them relief for the economic pressures many are feeling. Not only can they save money on fuel costs, now they can make money with Nexus Fuel Products if they so desire."
The company plans to introduce the direct sales program by offering first their "flagship" product Nexus Formula 7 With Ethanol Defense for gasoline engines. Formula 7 derives its name from the seven benefits it offers users. Those benefits are: 1) Improves fuel mileage and horsepower through increased combustion; 2) Totally disperses water; 3) Reverses the effects of ethanol; 4) Removes gum and varnish; 5) Boosts octane rating; 6) Lubricates the fuel system; 7) Reduces greenhouse gases.
The company plans to include the full line of Nexus Fuel Products fuel catalysts (Nexus Complete Diesel, Nexus Ultra Marine, Xtreme HP, and Nexus High Mileage) into the direct sales program over the next few months.
"Surviving and growing as a small company requires us to carefully plan strategies for expansion," said Jack Keller, the company's Vice President of Marketing. "We're very proud of this plan that can offer some financial relief to people who may just need a little extra money, or who may be looking for a way to make a living. Families have been impacted very hard by the economy, and we hope to make a difference."
More information about this program can be obtained at http://NexusFuelProducts.com under the "Distributor" tab or by contacting Bill Lagan directly at 914.299.1945.