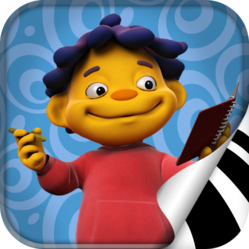 Santa Barbara, CA (PRWEB) August 14, 2012
iStoryTime and PBS KIDS today announced the launch of a new storybook app, SID THE SCIENCE KID Read & Play, available now for iPad, iPhone and iPod Touch on the App Store. Based on the animated preschool series SID THE SCIENCE KID from The Jim Henson Company, Sid the Science Kid Read & Play is packed with two stories and several fun activities aimed at developing early science exploration. It features two storybooks, jokes, games, sing-along music videos, coloring pages and more – all optimized for the new iPad.
Two Storybooks:

"The Trouble with Germs": Follow along as Sid discovers why he has to wash his hands to get rid of germs. While Sid can't see them, his mom shows him a picture through a powerful microscope to explain that those itty bitty things do exist and can make him sick.
"What's That Smell?": Sid finds out that smells, while invisible, are molecules that can pass through the air even without wind. That's what allows him to smell his dad's favorite pancakes, flowers and even his baby brother Zeke's diaper (ewwww!).
·Sing-Along Music Videos: Parents and children can sing along to songs from the show!
·Coloring Book: Color different scenes and then save, or share or print them.
·I Sense: In this fun interactive game, practice what you know about senses by identifying traits of different objects based on how they feel, smell, sound and look.
·Sticker Book: Select from three separate scenes with different objects and characters for little ones to build their own scene. They can be saved to the photo album as well to share with friends and family.
·Spot the Difference: What's different in each image? See if you have an eagle eye and can spot what's different between two images.
·Narration Options: Choose from Read to Me, Read to Myself and Auto Play.
The SID THE SCIENCE KID Read & Play App is available for $3.99 from the App Store on iPad, iPhone and iPod Touch or at http://www.itunes.com/appstore.
About zuuka
zuuka publishes zuuka Comics, iTalk and iStoryTime - an interactive storytelling experience delivered to the convenience of your mobile device - which features a series of illustrated and narrated books created by parents for kids. iStoryTime books have been highlighted in the New York Times, LA Times, CBS Early Show, theiPhoneMom.com, CNET and is decorated with Publisher's Innovation Award, PTPA Media's Parent Tested Parent Approved Seal of Approval, the Children's Technology Review's Editor's Choice Award and Reader's Choice for Best Apps for Kids. With over 200 products to choose from, including favorites such as The Smurfs, Puss in Boots, How to Train Your Dragon, WeeSing, Shrek and Kung Fu Panda, iStoryTime apps are excellent tools for both educating and entertaining children ages two years and up. These storybooks can be enjoyed in several different modes ranging from automatic to manual, depending upon the development and preferences of the user. For additional information, visit http://www.zuuka.com.