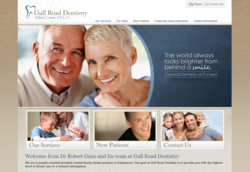 Kalamazoo, MI (PRWEB) August 13, 2012
With a new website, Gull Road Dentistry, a general dentistry practice headed by Dr. Robert C. Gano, D.D.S., P.C., seeks to welcome new and return patients alike and to supply information about the health of and caring for one's teeth, gums and jaw. The design and launch of the office's new website was made possible by Blue Fire Media, a company based in Portage, Mich. that specializes in web design and development.
The new website for the office of Dr. Gano provides easy-to-read content that answers basic questions return and potential clients might have about general dentistry, such as what implants are and which type of toothbrush to use. Thorough content is paired with a visually appealing site that offers simple navigation. Further, Gull Road Dentistry has taken into consideration just how difficult and time consuming the process of searching for the perfect dentist can be and has therefore put their standout offerings upfront in an attempt to help with the hunt. Information about what new patients can expect during their first visit is also provided on the website.
Dr. Gano specializes in general, pediatric and geriatric dentistry. The services he offers include, cosmetic procedures, crowns and bridges, dental implants, dentures and removable partial dentures, night guards for teeth grinding, porcelain crowns and veneers, root canals and whitening. To schedule an appointment with Dr. Gano whose practice is located at 5462 Gull Road, Suite 7, Kalamazoo, Mich., his office can be reached at 269-373-1999.
The new website, http://www.gullroaddentistry.com/, was created by Blue Fire Media. This company specializes in not only web design and development, but web marketing and search engine optimization as well. On top of creating user-friendly sites that read well, Blue Fire Media makes sure that these new web presences are found, thus optimizing a company's overall exposure on the Internet. More information about this company is available on their website, http://www.bluefiremediagroup.com/.