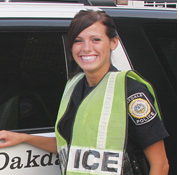 "When reports of luring and missing children lead the news, the worst thing parents can assume is that something can't happen in their neighborhood," said Lauria, Director of Public Safety at Pittsburgh Technical Institute
Pittsburgh, PA (PRWEB) August 14, 2012
In nearly every American community, children are enjoying the last few weeks of summer. As kids roam the backyards, parks and streets of our communities, Pittsburgh Technical Institute's Jim Lauria offers practical advice for child safety during back to school season and all year long.
"When reports of luring and missing children lead the news, the worst thing parents can assume is that something can't happen in their neighborhood," said Lauria, Director of Public Safety at Pittsburgh Technical Institute, Chief of the Oakdale Police Department, and a retired Lieutenant Colonel of the United States Air Force. "Our goal is to provide simple and effective things parents and caretakers can do in their communities to minimize risks in the summer and all year long."
"Students in our Safety and Security Administration degree program learn the importance of getting to know everyone in the communities they serve; the same principles apply to parents," said Lauria. "The more people you know, the more effective you can become in recognizing suspicious behavior and protecting your neighborhood."
Jim Lauria and Michael Discello, Department Chair of PTI's School of Criminal Justice, encourage parents to consider these practical tips which include taking accountability for your neighborhood, discouraging politeness in favor of safety, and specific preventative advice.
#1 TAKE ACCOUNTABILITY
#2 FORGET BEING POLITE
#3 TRUST YOUR INSTINCTS
#4 BE SPECIFIC WITH KIDS: FACTS AND INSTRUCTIONS
#5 CREATE A NEIGHBORHOOD NETWORK
#6 ENCOURAGE GROUPS
#7 BE REALISTIC: IT CAN HAPPEN IN YOUR NEIGHBORHOOD
#8 MONITOR THE ONLINE SOCIAL NETWORK
#9 ASK THE EXPERTS
For detailed tips and the full release, visit http://www.pti.edu/news_campus_safety_tips.php.
ABOUT PTI'S SCHOOL OF CRIMINAL JUSTICE
PTI's School of Criminal Justice offers a fully online or a campus-based associate degree program in Safety and Security Administration. It focuses on in-depth study of criminology and criminal justice, homeland security, and preparation for Act 235 certification. PTI's Safety and Security program is distinguished by an on-site MILO Range Pro simulation lab, industry-experienced faculty, courses evaluated by advisory board professionals and preparation for specialized certifications.
ABOUT PITTSBURGH TECHNICAL INSTITUTE
Pittsburgh Technical Institute is a two-year college with a 180-acre campus in North Fayette, west of Pittsburgh. PTI offers degree and certificate programs in areas such as Building Technology, Business, Criminal Justice, Design, Healthcare, Nursing, and Technology.
PTI students can take advantage of online course offerings, on-campus residence halls, student activities, intramural programs and community service programs. PTI is accredited by the Middle States Commission on Higher Education.
###