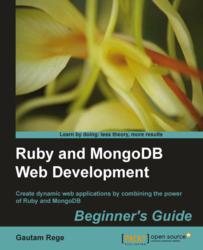 Birmingham, UK (PRWEB) August 13, 2012
Ruby and MongoDB Web Development Beginner's Guide is one of the latest titles published by Packt this month. The book is a hands-on guide to getting started with web application development using Ruby and MongoDB, explained with help of practical examples and necessary screenshots.
Ruby is a dynamic, reflective, general purpose object-oriented programming language which supports multiple programming paradigms, including functional, object-oriented, imperative and reflective. MongoDB is a scalable, high-performance, open source NoSQL database featuring document-oriented storage, full index support, querying and others.
Ruby and MongoDB Web Development Beginner's Guide follows a practical approach, and uses step-wise instructions and examples in Ruby to demonstrate application development using MongoDB. The book makes use of accompanying screenshots and code for an easy learning curve.
Beginning with introduction to concepts of MongoDB, the book details everything from installation to creating objects, MongoDB internals, queries and Ruby Data Mappers.
Readers will learn how to:
Leverage MongoDB to build highly scalable data-centric applications
Leverage MongoDB replication to ensure high availability and reliability
Create a Ruby Object and map it to MongoDB document
Create geo-spatial indexes or 2D indexes
Map Ruby objects to MongoDB documents using Mongoid and MongoMapper
For complete features and table of contents, visit the book-page:http://www.packtpub.com/ruby-and-mongodb-web-development-beginners-guide/book
The book requires the readers to have experience in Ruby development skills such as Ruby, HTML, and CSS. Additional knowledge of NoSQL will help readers swift through the concepts easily, but is not mandatory.
Ruby and MongoDB Web Development Beginner's Guide is now available for purchase on the publisher website http://www.packtpub.com/ruby-and-mongodb-web-development-beginners-guide/book