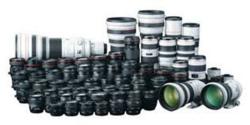 Now through September 1, Adorama.com customers can save hundreds of dollars instantly on Canon lenses and Speedlites.
Chelsea, New York City (PRWEB) August 14, 2012
As America's cutting-edge online photo retailer, Adorama is now offering special instant rebates on many Canon lenses and dedicated flash units. Though a limited-time Canon promotion, Adorama.com customers can instantly save hundreds of dollars on this state-of-the-art photo equipment. Available through September 1, these deep discounts are sure to give a push to photographers who've been sitting on the fence about buying a Canon DSLR lens or Canon Speedlite.
Most photographers who buy a digital SLR never move beyond the "kit" zoom lens that comes with the camera, and Adorama wants to do something about that with this unique instant-rebate program. Why? Because half the fun of a DSLR is being able to use different interchangeable lenses—not only to successfully shoot a wide range of subjects, but also to be able to interpret those subjects in exciting, creative ways.
Serious DSLR photographers who've felt limited by their camera's "kit" lens should consider the Canon EF 70-200mm f/2.8L IS II USM telephoto zoom, perhaps the most popular pro-level lens in all of photography because it has a perfect range for portraits and candids along with a fast, constant maximum aperture that softens distracting backgrounds. This lens, which fits both full-frame and APS-C Canon DSLRs, is now available at Adorama.com for an amazing $300 less than its usual price.
On the wide-angle end, there's the Canon EF 8-15mm f/4L USM Fisheye, a lens that combines that dramatic, bulging fisheye look with the ability to zoom for greater compositional control. With the instant rebate now available at Adorama.com, this lens is now selling for $150 less than its usual price.
Likewise, Canon photographers who love close-ups but feel frustrated by their regular lenses' inability to focus close enough to shoot them can take advantage of these instant rebates to pick up a dedicated macro lens. The affordable Canon EF 100mm f/2.8 Macro USM, which features the ideal focal length for close-up work, is selling for $50 less than its usual price through instant rebate. Interested photographers should also take a look at the Canon Macro Twin Light MT-24EX, a flash dedicated to close-up shooting—and one on which they can instantly save $60 at Adorama.com. Instant rebates are also available on a number of other Canon Speedlites.
Photographers who invest in new optics for their cameras quickly learn that the right lens can make all the difference in the quality of their photography. They learn, among other things, that there's no such thing as an all-purpose lens—and that particular lenses greatly enhance their ability to do justice to specific subjects. That lesson is the reason behind this one-time Canon lens promotion. Photographers should visit Adorama.com for details as soon as possible, because these prices are only good through September 1!
About Adorama: As one of the nation's largest photo retail and mail order suppliers, Adorama has served professional and amateur photographers for 33 years. It has recently expanded its service to the community through online photo education (the Adorama Learning Center and Adorama TV) and on-site workshops, programs that make it a unique industry resource. Adorama's vast product offerings now encompass home entertainment, mobile computing, and professional audio, while its services include a Professional Imaging Department, an in-house photo lab (AdoramaPix), and pro equipment rental (Adorama Rental Company). Knowledgeable staff and unbeatable pricing make Adorama a one-stop shop for all your photo and technology needs. Visit Adorama.com.