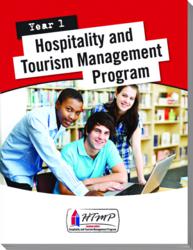 Not only are [students] going to be learning the latest in the hospitality industry but they are going to have new and exciting tools to re-enforce their learning.
Orlando, Florida (PRWEB) August 14, 2012
The American Hotel & Lodging Educational Institute (EI) has introduced a new high school curriculum, the Hospitality and Tourism Management Program (HTMP). This two-year program introduces high school juniors and seniors to the hospitality and tourism industry, a high-growth career sector with a need for qualified employees. The program is delivered with graphic-rich textbooks and workbooks, and includes optional online coursework ideal for tech-savvy teens.
The Educational Institute worked with more than 60 industry leaders who served as subject matter experts to ensure that the program matches the need of hospitality employers across the world. In addition, high school educators added their insight into the features that would make the program attractive to state and district educational bodies—such as the alignment of content to the Common Core State Standards and correlation to the job-specific technical skills outlined in the Hospitality & Tourism Career Cluster.
Major changes to this new curriculum from the Lodging Management Program (LMP), EI's previous high school program, including a broader focus on global hospitality and tourism, and realigned content that concentrates on operational issues in Year 1 and a leadership and management focus in Year 2 (available in 2013). Throughout the program, students receive information on key hospitality industry experts, hospitality and tourism history and traditions, green practices, diversity, and Americans with Disabilities Act (ADA) best practices.
Dr. Michelle Aldrich, a high school hospitality teacher at Triumph High School in Cheyenne, Wyoming, called the new program the best rewrite of curriculum she has seen in her last 12 years of teaching high school.
"I had the opportunity to use the new curriculum this summer with a class of 9-12 grade students. They loved the color, the new graphics, and the material covered is current and reflective of where the industry is headed," said Aldrich. "The new curriculum does an excellent job of educating students about the history of the industry, introducing present day industry leaders, and reinforcing the global aspect and environmentally sound green practices all in each chapter."
EI offers schools that adopt the program optional supplemental media resources, including hospitality training DVDs and a package of eight online training programs used by the hospitality industry. Several of the online courses also prepare students to earn professional certification from the Educational Institute, including the Certified Guest Service Professional (CGSP) designation. Students who complete Years 1 and 2 of the program and complete 100 hours of internship or job hours can earn the Certified Hospitality & Tourism Management Professional (CHTMP) designation.
"We are excited about the new HTMP curriculum and the impact it is going to have on today's high school lodging students. Not only are they going to be learning the latest in the hospitality industry but they are going to have new and exciting tools to re-enforce their learning," said Laura Rumer, director, school-to-career programs, Florida Restaurant & Lodging Association Educational Foundation.
Components of the Hospitality and Tourism Management Program include a student textbook and workbook, instructor/teacher wraparound edition of the textbook, and an instructor/teacher resource USB drive. For information on package options and additional materials, please contact Shelly Weir, CGSP, senior director, state relations & educational programs, at 407-999-8100 or sweir(at)ahla(dot)com.