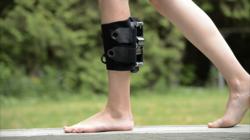 Saringer Life Science Technologies Inc. is a medical device company providing innovative therapeutic solutions for patients.
Toronto, Canada (PRWEB) August 14, 2012
For years doctors have struggled with diagnosing various types of "swollen leg" related illnesses. There are a vast number of diagnoses for swollen leg sufferers out there causing much confusion. Often times, a patient will visit a doctor with swollen legs and be told to simply elevate their legs. In more serious causes patients don't find what's really wrong with them until it is too late.
Swollen legs can be caused by many reasons ranging from Chronic Venous Insufficiency to Lymphedema all of which have the same root cause: a lack of proper blood circulation that stems from the legs and feet.
Regardless of the cause, Saringer Life Science Technologies Inc (SLST Inc.) have a unique medical innovation designed to increase circulation throughout the body, it's called: The Venowave VW5; a unique sequential compression pump worn on the calf that increases circulation using a patented wave-form motion. This user friendly device, pumps blood from the lower leg, so that patients can comfortably wear the Venowave for hours at a time while still maintaining an active lifestyle.
The Venowave VW5 has been in the spotlight recently, gaining approval from doctors and patients alike. SLST even gained recognition from CTV news for its effort in searching for a cure for Diabetic Wounds in order to prevent amputation. Although clinical trials are currently underway to explore the Venowave VW5's influence in Diabetic wound care, the Venowave has already conducted several successful studies on: treating and preventing Post Thrombotic Syndrome or Post Phlebitic Syndrome, and preventing Deep Vein Thrombosis better known as blood clots in the lower legs.
The fully portable Venowave VW5 has been certified by health authorities including, the Federal Drug Administration (FDA) in the United States, CE Mark in Europe (stringent ISO 13485 standards for design and manufacturing) and Health Canada. The Venowave's creator, inventor and entrepreneur John Saringer, reflects back on his motivation to create the device; "I recognized the need for a user-friendly device that pumps blood reducing swelling and is mobile and discreet so that patients could comfortably wear the device for hours while still maintaining an active lifestyle."
Saringer Life Science Technologies is a privately-owned company that was founded by engineer/inventor, John Saringer. John works extensively with leading physicians/surgeons in the development of new and improved medical treatment devices in the fields of DVT prevention, vascular solutions, wound healing intervention and pain management. For more information, please visit http://www.venowave.com.