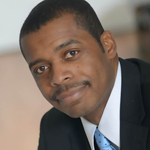 Many banks are operating on fumes. Their balance sheets are a farce. They're going nowhere spinning in a circle making bad loans to finance other bad loans. When the music stops, somebody's going to be left there standing.

Reggie Middleton
New York, NY (PRWEB) August 15, 2012
Reggie Middleton - an entrepreneurial investor and free-thinking maverick who has been a regular guest on Bloomberg, CNBC, The Kaiser Report, Russia Today, and Capital Markets - guides a small team to uncover truths that are often missing from mainstream media and Wall Street analyst reports. In an interview released today with Kim Greenhouse, the host and producer of It's Rainmaking Time!®, Reggie goes deep inside the inner workings of modern-day bank runs, free markets, securitized instruments, Google and Apple's business models (which many investors don't see or understand), and lets the cat out of the bag about his current take on the state of the US economy, Germany and the German bond market, and holds nothing back regarding what's next in France and the real state of China's economy.
Former guests on It's Rainmaking Time!® include highly successful maverick investors, business owners, and pioneers such as James Turk (Goldmoney), Jim Rogers, Grameen Bank founder and Nobel Prize winner Dr. Muhammad Yunus, John Williams (Shadow Government Statistics), George Gilder, G. Edward Griffin, and many more.
This interview invites a whole systems approach to understanding the interrelationships and interconnectedness of financial practices and conditions around the world that include banking, capital markets, equities, stocks and bonds, currencies, and business models.