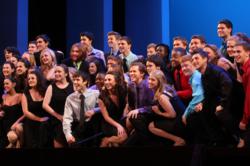 Miami, FL (PRWEB) August 15, 2012
It's non-stop drama when 60 of America's top high school musical theater performers arrive in New York City this summer for an intensive week of "theatrical boot camp" as they vie for a shot at stage stardom in the ultimate national theater competition. The annual event is the subject of the new three-part primetime series, Broadway or Bust, airing Sundays this fall, beginning September 9, 2012 at 8:00 p.m. on WPBT2.
Broadway or Bust will be the first-ever TV series to capture the behind-the-scenes coaching and grueling rehearsal schedule leading up to the National High School Musical Theater Awards (NHSMTA). Popularly known as "The Jimmy Awards"—named in honor of renowned Broadway theatre owner and producer James M. Nederlander—this national competition culminates in a unique weeklong New York experience—a make-it-or-break-it week of rehearsals, coaching and auditions that are capped by an awards event on a Broadway stage in front of a live audience and a panel of high-profile judges.
Part competition, part performance and part non-fiction drama, Broadway or Bust will capture the highly charged atmosphere as the country's most talented teens are plunged into the theatrical capital of the world to compete for a shot at Broadway and college scholarships. In addition to being hosted by Broadway stars Constantine Maroulis and Deborah Cox, surprise visits and cameo appearances by some of today's biggest Broadway names will offer the kids insider perspectives and tips about working on the Great White Way.
"Full of captivating performances, compelling characters and dramatic storylines, this series will pull back the curtain to show viewers the whole process—the talent, ambition, drive, vulnerability, discipline, resiliency, dreams dashed and dreams fulfilled—both the highs and lows of what it takes to make it to Broadway," says Broadway or Bust, executive producer, writer and director, Lance Shultz.
Broadway or Bust is a co-production of WGBH Boston and Lance K. Shultz, in association with the National High School Music Theater Awards. National funding for the series is provided by PBS. Local funding for the series is provided by Hall Hill Performing Arts (http://www.hhpa.biz). For additional information, please visit pbs.org/broadwayorbust.
###
About WPBT2
South Florida's premier public broadcaster, WPBT2 is a community-licensed, not-for-profit media enterprise serving communities from the Treasure Coast to the Florida Keys. WPBT2 provides high quality content from PBS, independent acquisitions and its own original productions. WPBT2's digital media platform, offers: 2HD, a 24-hour high definition channel; Digital 2.2, a mix of Science & Nature Channel, The Florida Channel and Create; Digital 2.3, V-me, a 24-hour national Spanish-language network; and http://www.wpbt2.org, the WPBT2 website including, Impromp2 (a community blog), the WPBT2 Video Player and uVu, a video sharing website