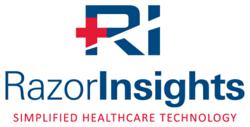 Kennesaw, GA (PRWEB) August 14, 2012
RazorInsights, a leading provider of IT solutions for Rural, Critical Access and Community hospitals, is finding great appeal and high favor in the said market with its single-database offering, ONE.
ONE resembles a real-life workflow based on role, specialty and necessity. It eliminates operational silos by offering cutting-edge, user-friendly products that satisfy Meaningful Use, while dramatically increasing efficiencies at the point of care.
John Gomez, CEO of software development firm JGo Labs, recently addressed the topic of distinguishing between single-database and integrated platforms. "A 'single platform' is one that provides a single set of technologies and database across a set of applications. The common example of this is where you have an EMR which relies on a single database across ED, lab, surgery, OB/GYN, pharmacy, acute, ambulatory, physician and nursing documentation, CPOE, and other venues. In a single platform offering, you have a single technical offering with all data being shared across the different venues of care," he said.
He provides an in depth guide explaining what hospitals are seeking and the questions they should be asking vendors during their search processes. Within his HIT Integration Analysis Guide, he explains how integrated platforms differ, and he provides great analogies for both types of systems.
RazorInsights is currently offering multiple webinars this month entitled "Integration Matters: The Advantages of 'ONE' Database in Linking Inpatient & Outpatient Episodic Care in the Rural Community," where they demonstrate their single-database system and answer the "Single Platform Analysis" questions that Gomez outlines.
Register for Integration Matters Webinar>
Kevin Rockholt, ambulatory-market veteran and VP of Sales for RazorInsights, is thrilled with the opportunity to be providing rural hospitals a comprehensive, single-database solution. "We recently introduced our financial management system and are now very excited to be developing an ambulatory piece to round out our single-database offering," he said.
RazorInsights' foundational product, ONE-Electronic Health Record, is delivered standalone or as part of the following packages:
•ONE-Health System Edition (ONE-Electronic Health Record + Financials)
•ONE-CCR Edition (ONE-Electronic Health Record + Ambulatory EHR/PM)
•ONE-Enterprise Edition (ONE-Electronic Health Record + Financials + Ambulatory EHR/PM)
RazorInsights' truly-integrated Ambulatory EHR/PM product (and its associated editions) is already being pre-ordered despite it currently undergoing beta testing. The company expects it to be available for "go live" by the year's end.
About RazorInsights:
Based in Kennesaw, Georgia (in the metro Atlanta area), RazorInsights is dynamic healthcare information technology company. In keeping with the principle of Occams Razor, they have created a simplified HIS solution for Rural, Critical Access and Community hospitals. Introducing ONE (ONC-ATCB 2011/2012) — a single-database, cloud solution offering a simple user experience with cutting-edge clinical tools and industry-standardized data. Hospitals can expect to improve their performance and bottom line with ONE from RazorInsights. To register for a live product demo or for more information, visit razorinsights.com or call 770-308-4111.