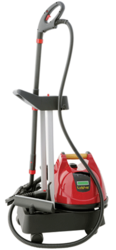 Sometimes you want your attachments with you, sometimes you don't. With the optional trolley you have the opportunity to go either way.
Lake Forest, Illinois (PRWEB) August 14, 2012
1-800-GO-VAPOR.com, a leading nationwide marketer of vapor steam cleaners since 1998 with an unblemished A+ rating with the Better Business Bureau, announced today that the popular Ladybug Tekno 2350 steam cleaner is available with an optional trolley for ultimate portability and tool storage. Earlier, 1-800-GO-VAPOR.com announced that the Ladybug Tekno 2350 secured bragging rights as the company's top-selling vapor steam cleaner.
"We had a busy first half of the year, and it was close," said V. K. Dunlop, 1-800-GO-VAPOR.com vice president. "That our highest priced steamer overtook the Ladybug XL2300 steam cleaner as our top seller doesn't shock or stun me. It's an amazing device with a performance level too stunning to go unnoticed."
According to Dunlop, most Tekno buyers want the optional trolley.
"Sometimes you want your attachments with you, sometimes you don't," says Dunlop. "With the trolley you have the opportunity to go either way."
Specifically designed for the Tekno, the trolley gives Tekno owners the choice of transporting their attachments from room to room or leaving the trolley and attachments not in use behind and moving the Tekno from job to job using its four smooth-running 360° castor wheels. A convenient wooden handle makes the Tekno easy to carry up and down stairs. The trolley easily moves on floors and carpeting.
According to Dunlop, the combination of the trolley option and the fact that the Tekno comes standard with TANCS® made the Tekno its top selling steam cleaner. Thermo Accelerated Nano Crystal Sanitation technology is proprietary to Ladybug steam cleaners and provides users with the ability to disinfect a surface at a level supported by the U.S. Environmental Protection Agency.
"Scientific studies have found that biofilms can be up to 1000 times more resistant to biocide inactivation than are suspended microbes," says Chuanwu Xi, Assistant Professor in the Department of Environmental Health at the University of Michigan. "It is extremely difficult to get rid of biofilms and kill them. The efficacy of the steam vapor system is important because even strong chemical disinfectants such as bleach when allowed 20 minutes of dwell time did not achieve the same degree of kill that the TANCS®-equipped unit accomplished in three seconds."
Located in Lake Forest, Illinois, 1-800-GO-VAPOR.com is moving fast to educate consumers and businesses that finally, there's a feasible, environmentally friendly alternative to chemicals. With customers in every state in the nation and seven foreign countries, the company markets Ladybug, Reliable and Vapamore steam cleaners worldwide. For more information, call 1-800-468-2767. 1-800-GO-VAPOR.com is a proud member of the Safer Chemicals, Healthy Families coalition, a nationwide effort to protect families from toxic chemicals. To stay safe and avoid toxic chemicals, keep abreast of the latest news with 1-800-GO-VAPOR.com's Twitter account, @1800GOVAPOR.