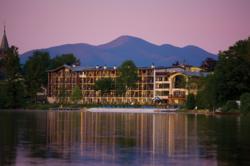 Lake Placid, NY (PRWEB) August 13, 2012
This fall, getaway to the Adirondack Olympic Village of Lake Placid and enjoy an all-inclusive Farm Tour Weekend with the Golden Arrow Lakeside Resort and Chef David Hunt of Generations Restaurant.
On September 7-9, the Golden Arrow, Lake Placid's only "green" hotel and the only U.S. resort to receive the Audubon Society's 5 Green Leaf Eco Rating for Hotels, is hosting a Fall Farm Tour Weekend, featuring:
A welcome reception on Friday evening with farm fresh hors d'oeuvres and beverages.
On Saturday, guests can attend a brief discussion on the history of local farms and learn about available opportunities to join a Community Supported Agriculture organization (CSA) and buy local, which will be followed by tours of Edgley Bison Farm, Tucker Farms, and Atlas Hoofed It Farm. Guests will return to the resort for a special dinner prepared using foods from each farm.
Guests also have the option to enjoy a delicious breakfast at Generations on Sunday prior to departure.
The Golden Arrow's Generations Restaurant, along with Chef Hunt, has been a leader in the Farm-to-Fork movement in the Adirondacks. Chef Hunt bases his menu each season on what is available at local farms throughout the High Peaks Region. From local bison to cheeses and vegetables, there is a taste of the Adirondacks in every meal.
The Family Farm Tour Weekend package is available for $209 per person and includes a deluxe village-side room (upgrades available) for 2 nights and all activities outlined above plus a breakfast ticket to be used either Saturday or Sunday morning.
The weekend package will offer guests the opportunity to participate in discussions on community supported agriculture, learn about opportunities to buy local, tour Adirondack farms and enjoy farm fresh meals and lodging at the lakeside resort.
For more information on the Family Farm Tour Weekend, please visit: http://www.golden-arrow.com/specials-packages/family-packages/family-farm-tour/.
About the Golden Arrow Lakeside Resort:
The Golden Arrow Lakeside Resort, located in the heart of Lake Placid on the shores of Mirror Lake, is an eco-friendly property and Lake Placid's only "green" hotel. The Golden Arrow has the unique honor of being the only resort in the U.S. to receive a 5 Leaf Status in the Audubon Society's rigorous eco rating program. Featuring a private beach, health club and pool, restaurant, night club and a variety of accommodations and amenities, the sustainable resort offers guests an enriching resort experience among scenic Adirondack lake and mountain views.