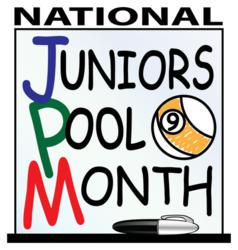 Denver, CO (PRWEB) August 14, 2012
The Billiard Education Foundation announces September as official Juniors Pool Month across the country. Under new direction, the nonprofit organization is reaching out to pool enthusiasts from coast to coast to help raise money for junior pool programs, including leagues, tournaments, and scholarships and pool in school programs.
As the annual pool season kicks off, the BEF is challenging the industry, players, and fans to arrange and support fundraisers. "Let's start a movement! League operators, tournament directors, and poolroom owners already raise money for their favorite charities. We're simply asking that BEF be this month's recipient," said Samm Diep-Vidal, Executive Director.
Fundraising campaigns will be highlighted in billiard publications, poolrooms, retailers, and social media. Many ways people are supporting juniors pool across the nation include fundraiser tournaments, raffles, auctions, monetary and product donations, and through spreading the word about the BEF and its efforts to promote the next generation of players and fans.
PoolDawg.com, a leading online retailer of billiards supplies has committed to take part in the fundraising efforts. PoolDawg has already donated a statue of their mascot Frank T. Dawg which was autographed by all members of the 2011 United States and European Mosconi Cup teams for the BEF to raffle or auction. "The future of pool depends on growing the sport through today's youth and future generations. We look forward to working with Samm and the BEF to find ways to raise money in support of youth pool" said Michael Feiman, PoolDawg's President.
For more information on ways to get involved, contact Samm Diep directly at 303-667-8000 or samm(at)billiardeducation(dot)org. Request a donation box or download a donation banner ad from the BEF website (http://www.billiardeducation.org).
About the Billiard Education Foundation
The Billiard Education Foundation (billiardeducation.org) is a 501(c)3 nonprofit organization that produces the annual Junior National Championships, provides scholarships for young players, sends junior players to the World Junior Championships and promotes Pool in School programs to encourage lifelong participants.
About PoolDawg.com
Since 2003, PoolDawg has helped over 100,000 pool players find all the billiards products they need to improve their game. With over 3,000 pool cues, cases and billiards accessories as well as hundreds of free training articles, it's no wonder why PoolDawg is the pool player's best friend.