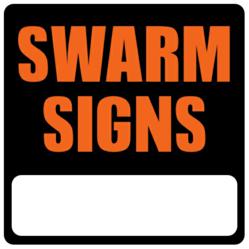 (PRWEB) August 15, 2012
Swarm Signs, a new project started by John Anderson on Kickstarter, is aiming to give users a new way to discover their world. As people move or "Swarm" around their community, they can drop signs, or read signs placed by others. This gives everyone a way to connect with each other, or just find out about events and happenings that they would have otherwise missed.
There are plenty of ways for everyone to connect with people they know or have known in the past. Sites like Facebook and Twitter allows connections with past acquaintances and keep them in the loop with day to day activities. But, what about those people (or businesses) that are unknown but might have something to offer? Swarm Signs fills that void.
Swarm Signs is all about finding out what's going on nearby, with people and businesses. It also stands apart from other apps by not forcing an account to be created, or give up valuable personal information before using the app.
Protecting privacy is one of the most important aspects of Swarm Signs. Along those lines, Swarm Signs doesn't require an account to be setup, username, email address...nothing! Just download the App and start using, not if's ands or buts. When the app is run it generates an ID that serves as a unique, and anonymous identifier when the app is run
Being able to overlay virtual signs onto the real world is the strength of Swarm Signs. Anyone in the world can download the app (once it's on the App Store) and start using it immediately. Signs can then be placed for things like a garage sale, putting up a lemonade stand, a community picnic or get-together, just about anything that people should know about. Businesses can also use Swarm Signs to help local potential customers around them find out where the best deals or savings are.
Kickstarter.com is a unique platform that allows projects to be "crowd funded" which means that anyone can go to Kickstarter.com and back a project like Swarm Signs, and get rewards from the project. In the case of Swarm Signs, the rewards include low-cost access to premium features that will require additional In-App purchases when the app is released. Each reward level offers at least a 3 to 1 value for these premium features.
Go to the Swarm Signs project page on Kickstarter.com, and decide which level is best to help get Swarm Signs off the drawing board and into the app Store.