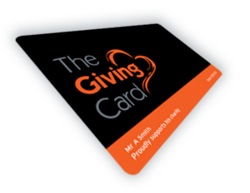 The Giving Card team strive to make life easier and less costly for the British public
(PRWEB UK) 15 August 2012
The Giving Card director is proud to announce the new and updated Giving Card website. The Giving Card team have been, making changes to the website to make it easier for the customer to navigate. Users can now search for offers by brand or by city; taking them straight to the offers that interests them most. It is now also possible for users to see exactly how much they can save with The Giving Card; with the new slider tool users can see how much they can save monthly within The Giving Cards six categories.
The Giving Card team strive to make life a little easier and less costly for the British public. We are a start-up company, but we are making great progress and can already give members access to over 3000 offers, all across the country. Offers are being constantly updated and added, so members will never be short of places to save money, and just to make things just a little bit easier, here are a few of The Giving Cards latest offers:

The Giving Card members can receive up to 50% off Choice Hotels worldwide. The savings made could provide additional spending money; making the trip even more enjoyable.
Enjoy dining out? Well enjoy fine Italian cuisine at Isola Bella in Westfield's Shepard's Bush and Golders Green with 10% off with The Giving Card.
Guaranteed to provide the best night out on the town yet; TigerTiger's all in one venues. Enjoy fabulous food and music, with up to 50% off food.
So head over to The Giving Card and marvel at the wonder that is the new and improved website. Have a look at the wide variety of savings provided and let The Giving Card know of any suggestions for website improvements or offers on Twitter or Facebook.