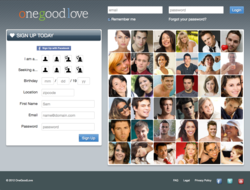 "Leading dating sites have either rejected gays and lesbians, or have treated them dismissively, willing to monetize the LGBT community, but rarely willing to customize their dating experience," said Frank Mastronuzzie, CEO of oneGoodLove.com.
Los Angeles, CA (PRWEB) August 14, 2012
oneGoodLove.com (http://www.onegoodlove.com), the Internet's first relationship-focused online dating service for gay men and lesbians, announced today the launch of a 2.0 Beta site, redesigned with enhanced searching and matching, "marriage" as a stated relationship goal, and for the first time, allowing LGBT singles to identify as members of the United States Armed Forces on an LGBT dating site. The new site, developed by members of the LGBT community, is live today with more than eighty thousand profiles of LGBT singles seeking loving relationships or marriage.
"Leading dating sites that focus on loving relationships and marriage have either rejected gays and lesbians from membership, like eHarmony did for years, or have treated them dismissively— willing to monetize the LGBT community, but rarely willing to customize a dating experience to actually meet their needs," said Frank Mastronuzzi, Co-founder and CEO at oneGoodLove.com, and formerly senior manager of business development at Match.com. "LGBT singles want what all singles want from their dating site, an opportunity to meet quality dates that are a good fit for them, based on the dating criteria they find meaningful." Mastronuzzi is known to show up at dating industry events with Cinderella's glass slipper, demonstrating the importance of "fit" for LGBT singles when dating online.
The Gay and Lesbian Dating Market

There are an estimated 16 million single gays and lesbians in the U.S. market.
The gay and lesbian market is estimated to generate $70 million in subscription revenue annually for the online dating industry.
A Customized LGBT Dating Experience At oneGoodLove.com

Profiles include information pertinent to LGBT dating, including self-descriptions like "butch" or "femme," HIV status, "top" or "bottom," as well as the opportunity for singles to describe how "out" they are.
Minimized rejection factor, as members are only matched with profiles of singles who are open to meeting someone like them, and have the option to only see profiles that match their stated dating criteria.
Dating focus at oneGoodLove.com is long-term relationships and marriage. Hookups, flings and one night stands are not the goal of oneGoodLove members, setting it apart form other popular LGBT dating sites.
Customized matching algorithm for same-sex couples, and the only dating personality profile test created specifically for the LGBT community by a gay relationship expert with a PhD in psychology, based upon research from long-term gay and lesbian couples.
Gay Love Advice Magazine (GLAM) provides much-needed relationship and dating content and support, created specifically for the gay and lesbian dating community.
Members can allocate five percent of their monthly subscription fees to gay non-profits, including the Gay and Lesbian Alliance Against Defamation (GLAAD), the Human Rights Campaign and Lambda Legal.
Civil Rights Advances Play Out In Same-Sex Online Dating
Over this past weekend, the national Democratic Party's platform committee voted for the first time to endorse same-sex marriage and called for a repeal of the "Defense of Marriage Act," which defines marriage as being between one man and one woman. California's anti-gay marriage proposition 8 is on its way to the Supreme Court, and states including Massachusetts, Connecticut, Vermont, Iowa, New Hampshire and New York now offer same-sex marriage rights to their citizens. As same-sex marriage has moved to the forefront of political discussion, more and more LGBT singles have acknowledged their interest in falling in love, and eventually marrying, their one special someone. Many online dating sites catering to the LGBT community don't make "marriage" a viable option for their members.
In 2011, the United States Armed services revoked "Don't Ask Don't Tell" (DODT), after a seventeen-year battle for justice and equality waged by the LGBT community and its supporters. While single Gay men and Lesbians have long been attracted to singles who have served their country in the military, until recently most LGBT servicemen and servicewomen were reluctant to disclose their sexual orientation. On oneGoodLove.com LGBT members of the Armed Service can now be authentic about their military career, and civilian LGBT singles can actively search for singles who are members of the Armed Services.
Public Relations Contact: tmcdermottpr AT aol DOT COM
Visit the oneGoodLove utube channel: http://www.youtube.com/user/onegoodloveinc
About ONEGOODLOVE.COM:
oneGoodLove.com is the first online dating site built specifically for relationship-minded gay and lesbian singles. Co-founded by Frank Mastronuzzi, former senior manager of business development at Match.com, and Nic Marlin, Internet entrepreneur and marketing executive, the site's mission is to offer gay and lesbian singles a better way to meet life mates, while also directly challenging the stereotype that gay and lesbian dating is primarily promiscuous. The site's proprietary Personality Profile Test and matching algorithm was formulated specifically for gay and lesbian singles, based on analysis of long-term lesbian and gay relationships. oneGoodLove.com is committed to giving back to the LGBT community through corporate volunteerism and donations to LGBT non-profits. Early investors include Tim Sullivan, CEO of Ancestry.com, and former CEO at Match.com, Bret McAlister, CTO of 1-800Dentist, and Fred Joyal, Founder of 1-800Dentist.
# # # # #