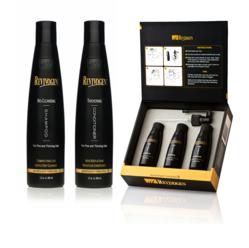 Santa Monica, CA (PRWEB) August 13, 2012
Revivogen's social media campaign aims to contribute to raise hair loss awareness. The campaign, simply titled "Revivogen Grow Your Hair Contest," asks participants to share their story of hair re-growth after 100 days of using the Revivogen three-part hair loss solution. The winner will be rewarded with a trip to Los Angeles to meet Revivogen creator Dr. Alex Khadavi, and receive a makeover including a facial and hair styling.
The topic of hair loss was recently thrust into the spotlight when Justin Bieber slammed Prince William for not addressing his thinning hair and when it was featured on "Keeping Up with the Kardashians". Almost 3 million viewers watched Rob Kardashian seek treatment in the battle against his already thinning hair. The specialist, Johan of Hair Restoration of California recommended Revivogen as a solution to stop his hair loss.
"For many men and women, the first signs of thinning hair can be traumatic and can lower confidence and self-esteem," says Dr. Alex Khadavi, MD. "The goal of our campaign is to spread the word that hair loss can happen to everyone, even royalty and when addressed early can be reversed."
To participate in the "Revivogen Grow Your Hair Contest" visit: http://www.Facebook.com/Revivogen
About Revivogen:
Revivogen is a natural hair loss solution for both men and women formulated with ingredients proven to reduce and block dihydrotestosterone (DHT), the hormone that causes hair loss. Developed by dermatologist Alex A. Khadavi, MD, the Revivogen line consists of three products – Revivogen Scalp Therapy, Bio-Cleansing Shampoo and Thickening Conditioner. Revivogen products work synergistically to help stop the hair loss process and reverse its effects for a thicker and fuller head of hair. For more information visit http://www.revivogen.com.
About Advanced Skin & Hair:
Advanced Skin & Hair was founded in 1999 by Alex A. Khadavi, MD and is the parent company to Revivogen, Clearogen, and Rejuve MD. The first product developed under Advanced Skin & Hair Inc. After the success of Revivogen, Dr. Khadavi developed Clearogen utilizing the same principles. Today, Clearogen is the first and only acne treatment to combine DHT blockers with botanical extracts in order to treat existing acne and prevent breakouts. Dr. Khadavi's latest creation is Rejuve MD, which utilizes growth factors to prevent and reverse aging of the skin. For more information go to [http://www.advancedskinandhair.com
Media Contact: Jenn Deese, Melrose PR, jenn(at)melrosepr(dot)com, 310.450.7960, http://www.melrosepr.com