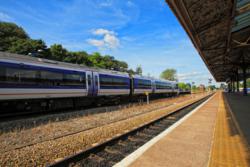 Bicester is second to none in terms of location, transport links and business opportunities.
UK (PRWEB UK) 15 August 2012
Bicester: It has been a record-breaking Q2 for Bicester, with the highest ever level of company formation for a second quarter. There have been 98 new companies formed, beating the record of 80 that was set in Q2 of 2003, before the recession began.
While other towns around the country are struggling in the face of funding cuts and decreased public spending, the economy in Bicester is booming. New shops are opening up in the town centre and Unipart Automotive is set to move its headquarters to Bicester in September. Not to mention the success of Bicester Shopping Village, which employs 1000 people and has become one of the UK's top attractions.
Further improvements are in the pipeline, with construction of the new £70m town centre under way and expected to open next summer. Rail links will also improve over the next few years with the Oxford/London link via Bicester cutting the journey between Bicester and Oxford to just 14 minutes. The East West rail link, which will link Bicester and Oxford with Milton Keynes and Bedfordshire, could be open by 2017.
Cherwell District Council's executive member for estates, Norman Bolster said:
"There is a lot going on in Bicester and it is showing signs of bucking the trend. Bicester is now on most people's maps. There is a tipping point in all these things and I think we have reached it. We have got large retailers and businesses interested in the town."
Peter Valaitis Managing Director of Duport.co.uk said:
"Bicester is second to none in terms of location, transport links and business opportunities. Setting up a new company here just makes sense, as we can see from the record level of company formation in the last quarter."
Bicester is thriving despite the recession, making it a great location for new companies to set up. Long may its success continue.
Duport Associates Ltd is a leading UK company formation agent, operating in the UK for around 15 years. Duport registers around 10,000 new companies each year using its Companies House approved software. The Company Register which is maintained by Companies House contains public information about Limited companies and directors.