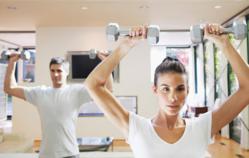 Method Fitness 's personal trainers highly suggest to include strength training as part of a fitness routine. It is essential for achieving a fit and toned body.
New York, New York (PRWEB) August 14, 2012
Method Fitness wants to put some false rumors about strength training to rest. These incorrect notions can discourage people from exercising or lead them to waste time on workouts that don't really work. The truth is that strength training is one of the absolute best things people can do for their health and appearance. If anyone has fallen for these 5 myths then their missing out on tremendous potential results. The sooner they learn the truth about strength training, the closer they will be to achieving their goals.
Here are the facts of 5 strength training myths:
Myth #1: Muscle Turns Into Fat When People Stop Working Out
They have probably heard that muscle turns to fat once they stop lifting weights. Muscle and fat are two distinct tissues that never convert to the other. When people stop exercising their muscles begin to shrink. This clears the way for tissue or fat to gradually replace them. Muscles might shrink when people stop working out, but they will never turn into fat.
Myth #2: Strength Training Does Not Burn Fat
On the contrary, muscle mass is people's number one ally against fat gains.
A pound of muscle burns 10-20 calories each day while just living and breathing. Regular strength training helps people increase their muscle mass as well as preserve existing muscle mass, turning them into a fat burning machine.
Myth #3: Lifting Weights Makes Women Bulk Up
Strength training increases the amount of muscle on people's bodies. Many women take this to mean that their body will become larger. Muscle takes up less space than fat. Adding muscle helps people lose fat. This will result in a more defined and leaner look. The female body simply does not contain high enough levels of testosterone to produce that level of results.
Myth #4: Strength Training Is For Young People Only
Method Fitness's certified Personal Trainers believe that everyone can benefit from a regular weight lifting routine, including the elderly. Older people who partake in strength training programs have more muscle mass and greater bone density. This results in improved balance and coordination and better strength and flexibility. Besides making them stronger, strength training can decrease their risk of osteoporosis.
Myth #5: Use Light Weights and High Reps To Tone
These high repetitions will increase their muscular endurance but will not add strength or tone. In order to truly challenge their muscles, heavier weights with lower repetitions are a must. They could start with an 8-10 repetition range and push their muscles with each set.
Method Fitness highly suggests to include strength training as part of a fitness routine. It is essential for achieving a fit and toned body. Method Fitness is dedicated to helping people achieve their fitness goals while maintaining a lifestyle of health and vitality.
Send us an email at: contactus(at)methodfitness(dot)com and check out our website at http://www.methodfitness.com or call us at 212-255-5842 today to see what our program can do for you. Act now to receive 50% off your first personal training session!