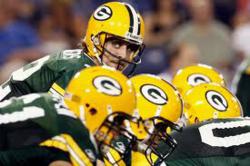 Pittsburgh PA (PRWEB) August 14, 2012
Another first preseason game on Thursday, August 9th, had the mighty Green Bay Packers take a fall against the San Diego Chargers with a 21-13 loss. Despite that harrowing loss, and a slew of injuries, faithful Cheese Heads are quickly buying up Green Bay Packers tickets to see how one of the best NFL teams will make a spectacular comeback.
One of the worst things to happen during the game came to linebacker Desmond Bishop. Apparently, multiple football players landed on his leg, which caused what's being called a knee sprain, with possible hamstring damage. Bishop could be out for a while, but there's a silver lining for Packers fans craving their Green Bay Packers tickets.
D.J. Smith is in his second year, but he showed a lot of potential in his rookie season. He will likely be Bishop's replacement, which could be viewed as Pyrrhic, but still the opportunity Smith needs to further prove himself.
Even with some preseason sloppiness, there were other rising stars that truly shone brilliantly on Thursday. Outside linebacker Nick Perry showed everyone why the Packers made the right decision in picking him in the first round for their defensive team. He proved that he belongs with Clay Matthews as a pass-rusher with a sack early on that really made impact.
At any rate, the game loss and injuries don't have fans worried, seeing as it was the first preseason game. Green Bay Packers tickets are still flying off the shelves in a feverish anticipation of the regular season.
The Packers' coach, Mike McCarthy, wasn't overly concerned about the loss, either. He's been quoted as saying, "'I think it's an excellent illustration of the progression you make from the practice field to a scrimmage and then to a real game. Fundamentally, we can go through it in more detail once we watch the tape."
Quarterback Aaron Rodgers also echoed McCarthy's words. He said, "Whether you play real well or you struggle, it's preseason. You're going to be working on things. We'll be fine. We'll just watch the film, get a nice tongue-lashing, and come back on Saturday and get ready for next week."
Headline Tickets Now is one of the most popular secondary ticket websites on the Internet. They have affordable sports, theater, and concert tickets across the United States and Canada, all without service fees. Headline Tickets Now is an accredited business with the Better Business Bureau (BBB) of Western Pennsylvania.
Please use Discount code "NFL2012" for 2 percent off the already lowest out the door prices on the tickets exchange. Just compare.