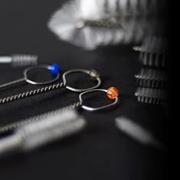 Palmer, MA (PRWEB) August 15, 2012
Sanderson MacLeod, the large volume twisted wire brush manufacturer, has won the Massachusetts Chamber of Commerce "Employer of Choice" Award. One of only four companies in the state to achieve this honor, the award recognizes businesses that have developed a culture for transforming and rewarding employee performance. The rigorous selection process included an examination of the company's culture, training and development, communication, job recognition and rewards, and employer of choice-related results.
"We are extremely pleased," said Mark N. Borsari, President of Sanderson MacLeod. "We have worked really hard and I think it is safe to say that everyone who works here knows that surviving in the global marketplace requires teamwork and a passion for continuous improvement. Our employees are really engaged and full of ideas of how we can work smarter. It's extremely gratifying to have our collective efforts recognized with this honor."
According to the Massachusetts Chamber of Commerce, this award is designed to find and spotlight businesses that have a commitment to employment in Massachusetts and whose workplace is recognized as an exemplary place to work. "We place a high value on training, communication, teamwork and rewarding our workforce for suggesting improvements," said Eric Sanderson, Owner and CEO of Sanderson MacLeod. "These activities are critical to delivering excellence to our customers and remaining competitive."
The company will officially accept the award at the Massachusetts Chamber of Commerce Annual Business Summit that will be held September 9 – 11.
Sanderson MacLeod is the only brush manufacturer that specializes solely in twisted wire brushes, and for more than 50 years, has been the source of twisted wire brushes for some of the largest companies in the world. The company has a long history of innovation, including the distinction of inventing the first twisted wire mascara brush. Sanderson MacLeod employs approximately 100 people in a state-of-the-art, 137,000 square foot facility in Palmer, Massachusetts and utilizes a modern, FDA compliant Quality Control Laboratory to ensure product quality.